Hobbit Ripoff Age Of The Hobbits Blocked From Release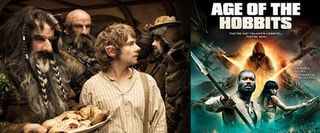 Paranormal Entity. Snakes on a Train. The Da Vinci Treasure. These are some of the more notable movies that have come from the dubious production company Global Asylum. As you can gather from their titles, Asylum is a maker of mockbusters, low-budget straight-to-DVD features that essentially piggyback off the fandemonium surrounded movies like Paranormal Activity, Snakes on a Plane or The Da Vinci Code. The Asylum is chief among these rip-off moviemakers, but when they tried to ride the coat tails of Warner Bros.' The Hobbit: An Unexpected Journey with the intended release of Age of the Hobbits they got shot down.
Deadline reports Warner Bros., along with New Line Cinema, MGM and producer Saul Zaentz, have succeeded in winning their case to get a temporary restraining order against the mockbuster, pleading to federal judge Philip Gutierrez that Asylum purposely chose the same release week for their straight-to-DVD release as The Hobbit: An Unexpected Journey as well as a similar title to cause consumer confusion that the two films had a correlation. They backed up this accusation by presenting a survey conducted on November 18-19 by Nielsen that clearly showed 30-40% of people were confused by the similar titles. The court-mandated restraining order will bar Age of the Hobbits from going on sale at least until January 28th, when there will be another hearing on the matter.
Warner Bros. is so pleased with their court victory that they've released a statement that is tantamount to a call to arms against mockbuster makers:
Unfortunately, getting taken to court seems to be part of Asylum's business model. Producers in such cases typically plead fair use and artistic license, and often the studios settle outside of court. Of course, we have no way of knowing what those settlements contain, but they seems to provide little deterrent to mockbuster makers to change course. If there's a demand and confused consumers, Asylum will be there to cash grab.
Staff writer at CinemaBlend.
Your Daily Blend of Entertainment News
Thank you for signing up to CinemaBlend. You will receive a verification email shortly.
There was a problem. Please refresh the page and try again.