Hollywood Slammed By Brand New Media-Diversity Study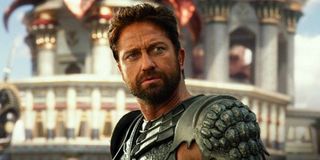 When, for the second year in a row, the Academy Awards only nominated white actors and actresses in the Best Actor, Best Actress, Best Supporting Actor, and Best Supporting Actress categories, the entire world seemed to decide that enough was enough and something needs to be done to correct the inherit inequality that is still a problem in Hollywood. A new study from USC reveals just how big an issue the lack of diversity across film and television has become, and it makes for some pretty horrific reading.
Released on Monday (via The Hollywood Reporter), this huge report, entitled the Comprehensive Annenberg Report On Diversion, was created by the Media, Diversity & Social Change Initiative at the University Of Southern California's Annenberg School For Communication & Journalism.
The findings were both truly stunning and utterly depressing. Basically, if you're white and male and working in Hollywood then everything is rather fine and dandy for you. However, if you just so happen to either be a woman, from an ethnic minority, or LGBT then you've probably been the victim of the "epidemic of invisibility" that has been so prevalent in Hollywood that, according to the report, it basically "still functions as a straight, white, boys club."
USC's team of researchers examined 109 films that were released by studios in 2014, as well as 305 scripted television and digital series across 31 networks and streaming websites. This included over 11,000 speaking characters, 10,000 directors, writers, and show-runners, as well as 1,500 executives. They then examined the gender, racial, and ethnic representation, and LGBT status of those involved. Here's a breakdown of some of the startling findings from USC.
As a way to track the improvement of Hollywood over the next few years, USC's findings also included a report card for all 6 of the major Hollywood studios. Unfortunately, it made for pretty grim reading for Disney, Sony, Paramount, 20th Century Fox, Universal, and Warner Bros., as all six of them failed to score anything better than 20%.
Basically, Hollywood must do better. Hopefully the USC report will instigate such a change, because things obviously can't continue in the same way. And as we've seen with the #OscarsSoWhite backlash against the Academy Awards, people aren't going to stay quiet about it anymore.
Your Daily Blend of Entertainment News
Thank you for signing up to CinemaBlend. You will receive a verification email shortly.
There was a problem. Please refresh the page and try again.