Hot Tub Time Machine 2 Gets An Awesome Theme Song Courtesy Of Craig Robinson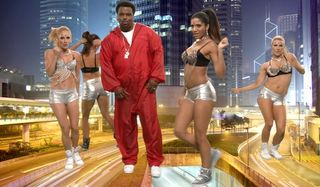 Hot Tub Time Machine 2 is getting ready to make a fast-paced comedic charge through a proverbial hornet's (or "horny") nest of a box-office landscape dominated by Fifty Shades of Grey. However bleak of a scenario that may be, the cast of the film are nevertheless making their rounds doing their best to get people talking about this fun-filled time-bending romp of a sequel. Appearing last night on Conan, co-star, Craig Robinson decided that music may be the best way to indelibly leave a lasting impression on potential ticket-buyers. Breaking out a conveniently placed keyboard, he goes into a HTTM2-themed musical number that would make a certain "steel town girl on a Saturday night" proud.
Robinson's movie-plugging Yankovic-esque rendition of Michael Sembello's iconic theme to 1983's Flashdance is clearly fun and upbeat enough to even get Christian Grey to convert his collection of ropes and blindfolds into legwarmers and run in place with an ecstatic enthusiasm before attempting dangerous breakdancing moves. Whether it will be enough to help HTTM2 to round up some respectable numbers during this inhospitable box-office weekend is a completely different story.
Unfortunately, box office analysts and prognosticators such as Box Office Mojo have dire predictions for the trio of new releases this weekend, of which, HTTM2 is included. Despite opening in 2,500 theaters across the country, not one film of the trio, which also include The DUFF and McFarland, USA are expected to even exceed the $15 million mark this weekend. Besides another easily predictable weekend of dominance for Fifty Shades, big-budget action thriller, Kingsman: The Secret Service, which held its own rather unexpectedly against the hype-heavy bondage, could experience some good carryover momentum this weekend. Plus, The Spongebob Movie: Sponge Out of Water will also hold the family audience solid in its third week.
It's difficult to discern if the film has any hopes in at least putting together some surprising numbers. While the first Hot Tub Time Machine was generally well-received, it was hardly a box-office phenom, closing up shop with a $64.5 million worldwide gross. (Although, it may have built a post-theatrical audience.) As a result of its lead star John Cusack not returning, and not having enough of a built-in audience from the first film, the possible paths towards finding a large enough of an audience this time around seem rather slim. (And would have been slimmer had they went with its original title.)
However, it is entirely possible that HTTM2 being the only major R-rated comedy on the menu, sporting an impressively hilarious cast, may be able to wrangle some business from a seemingly dormant young adult male demographic who may find themselves lost in the Fifty Shades shuffle, but not interested in an actioner like Kingsman. On the likelihood of that theory, I'll emphasize the word, "possible."
Hot Tub Time Machine 2 takes its 1980's cover band act to theaters, altering timelines with whirlpools of righteous laughter starting today!
Your Daily Blend of Entertainment News
Thank you for signing up to CinemaBlend. You will receive a verification email shortly.
There was a problem. Please refresh the page and try again.