How American Sniper Is Reshaping The Film Industry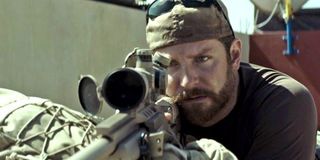 American Sniper's titanic assault on the box office over the last few months has led movie studios to hedge their bets that its success can easily be repeated. And why wouldn't they? Over the weekend, American Sniper surpassed The Hunger Games: Mockingjay – Part 1 to become the highest-grossing movie of 2014 - which is something that no-one would have predicted upon its original release. Obviously this is great news for director Clint Eastwood and the folks over at Warner Bros., but it's also seeing Hollywood become more invested in making war films.
But which in-development projects are clearly piggy backing off of American Sniper's gross? Well, as it happens, some of Hollywood's most prestigious talent have realized that this is the perfect opportunity to dust off their war-torn scripts and hand them back to their agents and studio bosses.
First off, there is Steven Spielberg. You've probably heard of him already. He's got a beard and spends most of his days polishing off Academy Awards. He's decided to bring along another rather prominent name of the modern movie scene for his adaptation of It's What I Do, casting none other than Jennifer Lawrence to play the movie's central subject. The Oscar-winning actress will star as Lynsey Addario, who won the Pulitzer Prize for her photos from the Iraq War and her work giving voice to the victims of the Middle-Eastern conflict. It smacks of the kind of movie that the Academy fawns over.
Meanwhile Kathryn Bigelow is following up the eclectic success of The Hurt Locker and Zero-Dark Thirty with a film that revolves around Bowe Bergdahl, an Army sergeant that was captured by the Taliban and held captive for five years in Afghanistan. It was announced about nine months ago that this project was in development, but now – thanks to the success of American Sniper - it looks like a more bankable project than ever.
Also in the mix is Reese Witherspoon, who, through her production company, is also currently considering adapting Ashley's War, a book about a group of female Special Operations soldiers in Afghanistan, according to Deadline. That project seems to still be in the early stages of development, but it could easily be fast-tracked thanks to the box office success of Clint Eastwood's latest.
Before American Sniper grossed $337.4 million in the United States alone, war movies have been deemed unreliable by studios - and with good reason too. Just look at the evidence: The Hurt Locker, which received critical acclaim and a cavalcade of Oscars – including Best Picture - only grossed $17 million in the United States upon its release back in 2008. Before that, 2007's In The Valley Of Elah, which came from the mind of Academy Award winning writer and director Paul Haggis, was met with impressive reviews and only amassed $6 million. It doesn't stop there. Paul Greengrass' Green Zone, starring Matt Damon, took in only $35 million, and 2007's Lions For Lambs made just $15 million.
In recent years, however, there have been indications that the tide was turning. Zero Dark Thirty, which came from Kathryn Bigelow and depicted the decade long hunt for Osama Bin Laden, grossed almost $100 million, while 2013's Lone Survivor, buoyed by the presence of Mark Wahlberg as a Navy SEAL, followed that up with $125 million. At this point, it seems like American Sniper is the big, fat cherry on top.
But while one can understand Hollywood's rush to follow the path that American Sniper paved, there's also the chance that the films could wind up over-populating the calendar with rushed titles that don't connect with an audience in the manner that Clint Eastwood's divisive biopic has. But considering the talent involved in each of these impending efforts, it's certainly understandable that studios are willing to gamble.
Your Daily Blend of Entertainment News
Thank you for signing up to CinemaBlend. You will receive a verification email shortly.
There was a problem. Please refresh the page and try again.