How James Cameron Fixed The Ending To X-Men: Days Of Future Past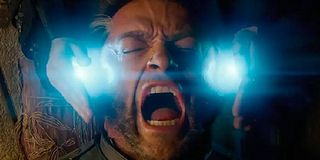 The ending of X-Men: Days of Future Past saw Wolverine waking up in a future of his own creation. He stopped Bolivar Trask's Sentinels from one day wiping out most of the mutant race, and now his family has come back from the dead. An earlier cut of the film was slightly different, but more "unsatisfying," according to James Cameron. Wanting to get the mechanics of his time travel scenario in check, Bryan Singer reached out to the Terminator director, who provided some much needed advice on the ending.
Sitting in his trailer on the Montreal set after the 56th day of shooting on X-Men: Apocalypse, Singer said,
James Cameron, who Bryan Singer said hadn't talked about time travel with since his days working on Terminator (not Genisys, don't blame that one on him), was eager to talk about such things as "collapsing the super position" and "how it would work in quantum physics." After this conversation, when Singer had a cut of the film ready, he said he sent it to Cameron.
Bryan Singer said the concept for Days of Future Past was decided over sushi at an L.A. restaurant. While Simon Kinberg asked how they could incorporate both casts of the original films and First Class into one film, and Singer said time travel, citing the comic book story line.
X-Men: Apocalypse hits theaters on May 27. Find out more about Quicksilver's next big scene, the new timeline, Apocalypse's powers, and more from our set coverage.
Your Daily Blend of Entertainment News
Thank you for signing up to CinemaBlend. You will receive a verification email shortly.
There was a problem. Please refresh the page and try again.