How James Cameron Saved Guillermo del Toro's Father From Mexican Kidnappers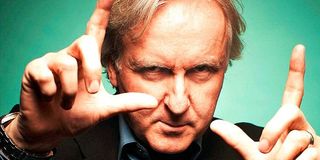 James Cameron's reputation as one of the fiercest directors in movie history has been widely publicized, but Guillermo del Toro will always revere the infamous filmmaker after it was revealed that, like one of the heroes that are usually central figures in his films, the Titanic filmmaker saved his father from a perilous situation. Rather than featuring a T-800 or a hoard of Aliens though, this tale revolves around Mexican kidnappers instead.
According to Uproxx, during the troubled production of Mimic, Guillermo del Toro learned that his father, Federico del Toro, had been kidnapped off the streets of his Mexican hometown, Guadalajara. Obviously this immediately overshadowed any problems he was having with his sci-fi horror. But there was another issue. Guillermo del Toro had put all of the money that he had into Mimic, and the rest of his family didn't have anywhere near amount that was required to free Federico. The kidnappers wanted $1 million for the safe return of the del Toro patriarch, and as the days turned into weeks it looked as if they had run out of options.
However their savior eventually arrived in the form of one of the greatest directors the action genre has ever produced: James Cameron. Guillermo del Toro and James Cameron were old friends. Having met during the pre-production of Guillermo del Toro's 1993 cult hit, Cronos, the pair struck up a lasting friendship thanks to their mutual passion for all things cinema. Over the next couple of years, Guillermo del Toro would stay in James Cameron's guest home for long periods of time, while the duo would even provide notes on each other's movies as well. Eventually James Cameron learned of Federico del Toro's kidnapping and without hesitation he immediately sought out his old friend and took him directly to a bank where he handed him over $1 million in cash. Not content with his good deed for the day, James Cameron then even recommended a negotiator that would help get Guillermo del Toro's father home safely.
About 72 days after originally being taken, Federico del Toro was released without a scratch on his body. Several men connected with the abduction were arrested by police, but no one ever served any hard time for the crime, and James Cameron's $1 million was never apprehended. Guillermo del Toro decided that he was no longer safe in Mexico, and despite his disdain for Mimic (he regards it as his worst film) the director decided to move his family to America permanently. Except for his pops, who decided to stay in Mexico.
The money didn't come between Guillermo del Toro and James Cameron either, and, as he explained to The Daily Beast in 2013, they have both managed to stay extremely close since their careers have blossomed .
Well played, James Cameron. Well played. Plus, if anyone ever needs a million dollars quickly, we now all know who to call.
Your Daily Blend of Entertainment News