Hulk Might Face Abomination Again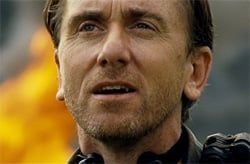 I'm not very hopeful about there being more movies made featuring Marvel's Incredible Hulk. The response to the two existing movies hasn't been as positive as most would like, and it doesn't make sense that the studio would pour more money into the Green Goliath when they would have bigger successes with Iron Man or another Spider-Man movie. Short of seeing him among the Avengers, I think Hulk's cinematic days are through for now.
Whether that's true or not is yet to be seen. After all, a foundation has been laid down for a second movie, if only in contract form. We've reported before about Tim Blake Nelson being confirmed for two sequels and it looks like he's not the only one. Tim Roth, who was the major baddie to face off against the Hulk as the Abomination, is also contracted for two more films.
"Yeah, they've got me for three," Roth told SciFi Wire, while confirming that the shooting schedule of his new series, Lie to Me will afford the actor time to take breaks to continue working on feature films.
So, two villains are in place for Hulk 2. Now it just has to be determined by the studio if a sequel is moving ahead. As I said before, my money is on "No," but I would be happy to be surprised. After all, I did like The Incredible Hulk so a second picture wouldn't be bad - the big question I want to know is whether Edward Norton would be brought back for a second picture.
Your Daily Blend of Entertainment News
Thank you for signing up to CinemaBlend. You will receive a verification email shortly.
There was a problem. Please refresh the page and try again.