All The Major Marvel Movie Superheroes, Ranked By Power Tier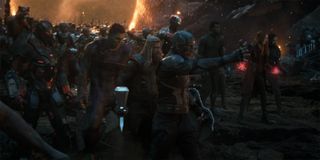 For as long as comic books have been around, fans have been arguing over power rankings and the results of imaginary showdowns between superheroes. This is partially because there are no definitive answers available, with everything being situational, but also because it can be fun and allows obsessives to further engage with the material. It was thinking about that, along with the last 12 years of action from the Marvel Cinematic Universe that birthed the concept for this feature: ranking all of the heroes not individually, but instead by categorizing them on different tiers.
Reflecting on the 30 main characters we've met in the franchise, we've managed to separate them all into five separate levels, going from the Expert Fighters to the God-Like Beings. Some of the determinations weren't easy, but check out our choices below, and then hit the comments section with your thoughts and arguments for adjustments.
(Note: beyond power tier, characters are listed in alphabetical order)
Expert Fighters
The heroes on this level don't possess any kind of next-level technology, or special genes/DNA, but they more than earn their positions fighting alongside all of the other heroes thanks to their dedication and training.
Black Widow
Natasha Romanoff may have just been a human, but she was also a human who spent almost her entire life dedicated to spy craft – able to kick an unholy amount of ass and operate in near total obscurity.
Hawkeye
Clint Barton is an above-average athlete and possesses a sharp killer instinct, but it's when he is going full Hawkeye with a bow in his hand that he proves himself worthy as one of the original Avengers.
Nick Fury
In addition to functioning well with advanced technologies, and certainly knowing how to aim a gun, Nick Fury's greatest asset was front and center when he served as director of S.H.I.E.L.D. – which is to say that he is a mastermind character, and rather brilliant in the realm of intelligence gathering and compartmentalization.
Enhanced Humans
The heroes we classify as "Enhanced Humans" are those who aren't biologically different than people you meet every day, but they both have access to remarkable technology and training using it that puts them above the folks using traditional tools and weapons.
Ant-Man
As awesome as we've seen Scott Lang perform in his various films, deftly growing and shrinking in times of crisis, the Ant-Man technology has not exactly been perfected yet – but the potential is certainly amazing. Where things go in Phase 4 and beyond for the character could bump him up a tier, but for now we classify him as an above-average human with excellent specialized tech.
Falcon
There's perhaps a time in every person's life when they wish they had the capacity to fly like a bird, but Sam Wilson a.k.a. Falcon gets to live that dream every time he is in battle. His use of his specialized wing technology is unmatched in the world, and with his soldier training certainly knows his way around firearms.
Okoye
Members of the Dora Milaje don't possess any specific gifts in their appointments to protect the king of Wakanda, but they do receive both advanced weaponry and upper echelon training, and in both respects Okoye demonstrates herself an expert. Her equipment may not outwardly appear as advanced as others on this tier, but the scene in Black Panther where she uses a spear to stop a speeding car dead on the road argues otherwise.
Star-Lord
In Guardians of the Galaxy Vol. 2 there is a stretch where Peter Quill a.k.a. Star-Lord would belong much lower on this list, but as things currently stand he belongs among the enhanced humans. Not only are his literal enhancements listed during the booking sequence in Guardians of the Galaxy, but he also has access to kick-ass alien tech like his ankle rockets, mask, and twin blasters.
War Machine
With all due respect, James "Rhodey" Rhodes is pinned to this tier as a result of not quite having the genius intellect of his best friend – but he still stands as one of the more formidable heroes in the Marvel Cinematic Universe. Not only is the regularly-updated War Machine armor outfitted with all of the bells and whistles of the Iron Man suit, but Rhodes also has extensive military training and command experience.
Wasp
Just about everything written above about Ant-Man also applies to Hope van Dyne a.k.a. Wasp, though she is technically always one spot above him. Assuming that she has also has the capacity to grow like her partner and communicate with insects (with have no reason to believe otherwise), her suit is also outfitted with both wings and blasters, and she is a superior fighter.
Winter Soldier
James Buchanan "Bucky" Barnes has certainly had a rough go of it at life, having spent decades as a super assassin, but at least he got some nifty powers out of the experience! Having a vibranium arm is pretty amazing by itself, but there is also the suggestion that he was given some kind of knock-off Super Soldier Serum by Hydra, giving him some extra kick in a battle.
The Extra-Terrestrials
This is a more nebulous category, as extraterrestrial races in the Marvel Cinematic Universe possess abilities beyond human biology, but the full extent of those abilities and other physical attributes aren't made entirely obvious.
Drax
Drax doesn't have a great deal going for him in the brains department, but boy, is he durable and strong. Not every Marvel hero can jump into the mouth/stomach of a giant alien monster and emerge totally unharmed.
Gamora
Gamora in the comics sports the nickname "Deadliest Woman In The Universe" and her on-screen counterpart has done a great deal to live up to that reputation. She is ferocious and dangerous, particularly with a blade in her hand (but a massive gun broken-off from a spaceship also works just as well).
Groot
Groot is easily one of the weirdest entities we've seen thus far in the Marvel Cinematic Universe, starting with his odd reproduction/growth cycle. In a fight he can grow his limbs to great lengths, and they possess awesome versatility.
Mantis
The unique ability demonstrated by Mantis that has mostly defined her character is her empathic sense – able to feel the feelings of anyone she touches – but she is also a pretty tough cookie. Many fans were quick to note her prominent position on the Avengers front line in the initial charge against Thanos' army in Endgame, and that is an awesome display of courage.
Nebula
Thanks to her adoptive father's awfulness, Nebula is arguably more machine than biological being – and while that's horrible in the grand scheme, it also makes her a formidable hero. Her technological parts are replaceable, making her particularly durable, and she very much puts her all into battle.
Rocket
We're still waiting to see if Rocket's full origin story will ever wind up being featured on the big screen, but we do know a few important things about him ability-wise: he is just as nimble as any raccoon, but is also a skilled improviser/innovator with a knack for hardware and an insatiable taste for explosions. You just have to put aside his perpetual bad attitude.
Yondu Udonta
Yondu Udonta was not an alien to be trifled with when he was equipped with his special fin and Yaka Arrow. The guy could clear a battlefield with a few simple whistles and look effortlessly cool while doing it.
Hyper Powerful Heroes
The characters on this level have notable weaknesses, and they aren't quite at the level of potentially altering the functions of solar systems, but they do have tremendous gifts and properly aligned hearts and minds to utilize those tremendous gifts well.
Black Panther
T'Challa a.k.a. Black Panther's energy-absorbing suit made of an indestructible vibranium weave would alone qualify him for this tier, but on top of that he also has the enhanced abilities provided by the sacred heart-shaped herb, and is an effective and powerful leader. He is decisive, commanding, and definitely dangerous in combat.
Captain America
People joke about Steve Rogers a.k.a. Captain America being a hero born from steroids, but the truth is much more complex than that. More than just making him strong, the Super Soldier Serum that Cap took had the effect of enhancing who was at his core, and that is a truly perfect and good human being. His greatest gift is arguably that his moral compass permanently points true north – but on top of that he also happens to essentially be the peak of human physicality.
Doctor Strange
In a few more years, Dr. Stephen Strange will likely be shifted up to the next tier as he becomes the next Sorcerer Supreme, but for now he fits in here bumping up against the ceiling. He may only have a few years of experience as a wizard under his belt, but he is an exceptional kind of fast learner, and what he can do as of Avengers: Endgame is amazing, allowing him to effectively go toe-to-toe with a being as powerful as Thanos.
Iron Man
Tony Stark had a special brain, and his use of that special brain effectively changed the entire universe. His creation of the Iron Man suit is obviously a work of pure genius, but this is also the guy who gets credit for co-creating true artificial intelligence (albeit the end results aren't great) and successfully cracks time travel. He may not have been a near-god (the invincibility bit really would have helped at the end there), but his intelligence alone more than qualifies him for this tier.
Scarlet Witch
When we first met Wanda Maximoff a.k.a. Scarlet Witch in Avengers: Age Of Ultron, she was capable of some cool mind tricks and effective energy manipulation, but since then her powers have come a long way, and like Doctor Strange she is definitely bumping up against the ceiling of this level (the events that unfold in WandaVision may wind up making the difference). To put it simply, in Avengers: Endgame, Thanos literally had to order open fire on the entire battlefield, including on his own men, just so that he wouldn't lose a one-on-one fight with her.
Shuri
Shuri is arguably the most exciting developing character in the Marvel Cinematic Universe right now, as her potential is off the charts. She may only be a teenager, but already she has an IQ on the level of Tony Stark's, plus she has direct access to what is essentially an unlimited supply of the greatest resource on the planet. Her inventions – including the aforementioned Black Panther suit – are astonishing, and one can only imagine what she will be able to come up with as she starts to learn more about the world outside Wakanda and devises ways she can help.
Spider-Man
As we know him in the Marvel Cinematic Universe, Peter Parker a.k.a. Spider-Man is definitely still green, but there's just no arguing that the kid isn't special. Once again we have a case of a hero possessing an impressively sharp and innovative mind, not to mention a perfect attuned sense of right and wrong, but he also has all of those wonderful gifts provided by the spider bite, including wall-crawling, super strength, off-the-charts agility, and his famous spider-sense.
Valkyrie
There exists a particular power gap between Valkyrie and Thor, as she doesn't have the ability to fly or control lightning, but as a warrior-class Asgardian she is still a beyond-formidable force to be reckoned with, and well suited to become the new king of the realm after Avengers: Endgame. Plus she earns significant bonus points for being the kind of badass who is trained to ride a Pegasus into battle.
Vision
Under normal circumstances, Vision would probably rank as one of the god-like beings on this list, but that's kind of hard to do right now given that he is presently dead in the Marvel Cinematic Universe canon. Still, there's no denying what he is able to do – from the fact that his intelligence is made up of all existing intelligence, to his capacity to control every cell of his form. He's not flawless, as demonstrated by his mistake in Captain America: Civil War, but he is also easily one of the most powerful heroes we know about thus far.
Wong
Doctor Strange may have a demonstrated knack for magic, but Wong was studying the art long before the former brain surgeon arrived at Kamar-Taj, and his skills are not to be underestimated. His knowledge of spells and conjuring is matched by few on the planet, and that means quite a lot when you consider what magic has the capacity to do and its significance in the grander scheme of the multiverse.
God-Like Beings
To put it bluntly, the denizens of the Marvel Cinematic Universe should be superbly happy that these characters fight with the good guys. This tier features the heroes who are not only practically invincible and technically ageless, but could also crack a planet in half if not careful with their respective abilities.
Captain Marvel
Kree and human DNA individually both have some excellent biological advantages, but when you mix them together the results are extraordinary. At her most powerful Carol Danvers a.k.a. Captain Marvel can become imbued with a remarkable level of energy, and her advanced control of that energy makes her nearly indestructible (as evidenced by the way she manages to shred through Thanos' massive ship with no effort).
Hulk
One day Bruce Banner was a nerdy scientist with a curiosity about Gamma radiation, and then the next he was a man who could turn into an invincible giant green rage monster by losing control of his temper. Now that the two halves of himself have merged post-Avengers: Endgame, and his intelligence operates alongside his brawn, he is permanently one of the most powerful beings in the universe.
Thor
It says it right in Thor's nickname: the God of Thunder. It's true that he isn't really a god, but instead an incredibly powerful alien who seemed to be a god to 13th century Scandinavian humans – but it's still an apt name. While it used to be believed that the Asgardian's greatest powers came from his hammer, Mjolnir, including flight and lightning conjuring, but Thor: Ragnarok changed the canon to show that he is much more than just the wielder of his bestowed weapon.
Stay tuned for all of the latest news and updates about the Marvel Cinematic Universe here on CinemaBlend.
Your Daily Blend of Entertainment News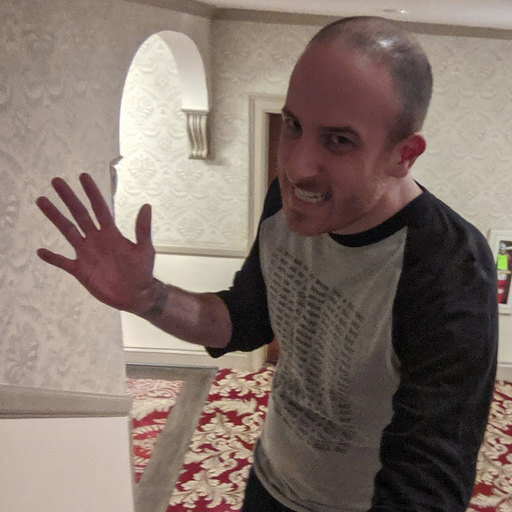 Assistant Managing Editor
NJ native who calls LA home and lives in a Dreamatorium. A decade-plus CinemaBlend veteran who is endlessly enthusiastic about the career he's dreamt of since seventh grade.