New Identity Thief Trailer Lets Melissa McCarthy Cut Loose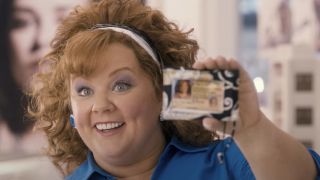 (Image credit: Universal)
Aside from a tiny role in Judd Apatow's This is 40, Melissa McCarthy hasn't actually been much of a presence at the movies this year. But her performance as Megan in last year's Bridesmaids, and the Oscar nomination that came with it, still looms large enough in pop culture that it feels like McCarthy has been everywhere-- or maybe that's just many, many viewings of Bridesmaids talking.
Either way, McCarthy will be back in a big way this February, starring opposite Jason Bateman in the comedy Identity Thief. A new trailer for the film debuted today at Apple (opens in new tab), and you can watch it there or embedded below:
It's amazing to think that McCarthy made her career playing relatively normal people on TV shows like Gilmore Girls and Mike and Molly, and is now at her most famous playing total loons. The character she's playing here, an apparently fearless identity thief, is outlandish like her Bridesmaids character Megan, but there does seem to be something different going on with the character here, and of course the potentially amazing clash of personalities with Jason Bateman's strait-laced character. The plot seems to be a pretty standard issue road movie, with what looks like a vicious drug cartel on their tail, but it's the comedic sparks that could fly between McCarthy and Bateman that would make this worth watching.
Identity Thief, which also stars Jon Favreau, Amanda Peet, Genesis Rodriguez, John Cho and a ton of other people, is coming to theaters February 8. Are you as intrigued by it as we are?
Your Daily Blend of Entertainment News
Staff Writer at CinemaBlend