Inside Llewyn Davis Soundtrack Is Now Streaming Online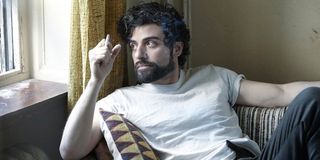 The Coen Brothers have put together amazing soundtracks for their films in the past, from the best-selling bluegrass that accompanied O Brother Where Art Thou to Carter Burwell's booming True Grit score. But honest to God, they have outdone themselves again with Inside Llewyn Davis, their new film coming this December that's set in the early 60s folk music scene of Greenwich Village-- the scene that birthed Bob Dylan, though you'll only see and hear him briefly in this melancholy, completely wonderful movie.
But Bob Dylan is only the beginning of what's great about the Inside Llewyn Davis soundtrack, which is now streaming at NPR, and is worth a listen even if you haven't seen the movie (which, let's be real, most people have not). You've got everything, from a completely goofy song called "Please Mr. Kennedy" sung by Justin Timberlake and Girls star Adam Driver to the beautiful "The Shores of Herring," sung by Llewyn Davis himself, Oscar Isaac. Isaac, who you might recognize from Robin Hood or as Carey Mulligan's doomed husband in Drive, has shown off his musical skills on film before, in the completely underseen indie 10 Years. But he's a revelation in Llewyn Davis, not only playing the self-defeating and world-weary Llewyn but singing on some of the soundtrack's best songs. Here he is singing the song familiar from the most recent trailer, "Fare Thee Well" with Mumford & Sons' Marcus Mumford:
You can also watch them perform live at Caffe Vivaldi, one of the real-life West Village institutions that plays a role in the movie.
Inside Llewyn Davis opens in theaters December 6, so you have more than a month to let the soundtrack seep into your veins.
Staff Writer at CinemaBlend
Your Daily Blend of Entertainment News
Thank you for signing up to CinemaBlend. You will receive a verification email shortly.
There was a problem. Please refresh the page and try again.