Carey Mulligan: 13 Movies To Watch Streaming If You Like The Promising Young Woman Star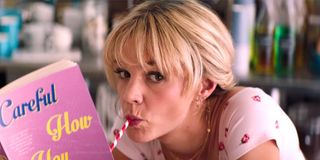 (Image credit: Focus Features)
CinemaBlend participates in affiliate programs with various companies. We may earn a commission when you click on or make purchases via links.
Carey Mulligan is drawing rave reviews for her performance in Promising Young Woman, which after a 17-day exclusive showing in theaters is coming to premium video-on-demand, thanks to Universal's exclusive deals with movie theaters. If you're a Mulligan fan, you're likely eager to pony up the $20 to see her latest, but there are a lot of Carey Mulligan movies readily available on streaming to enjoy as well.
Let's take a look at which films from the Oscar-nominated actress are available to watch on streaming and where you can find them.
An Education - IMDb TV
Fittingly enough, the film that represents Carey Mulligan's lone Oscar nomination to date (something Promising Young Woman may change) is available to enjoy, as 2009's An Education can be watched for free (with ads) on IMDb TV.
Directed by Lone Scherfig, An Education sees Mulligan star as Jenny Mellor, a teenage girl who becomes involved with an older man (Peter Sarsgaard), who reveals different aspects of life in 1960s suburban London to her. Alfred Molina, Olivia Williams, Dominic Cooper and Rosamund Pike co-star.
An Education received three Oscar nominations, including Best Picture and Best Adapted Screenplay (Nick Hornby), but Mulligan was the attraction for many. In the review by Roger Ebert, he compared the then 24-year-old to Hollywood icon Audrey Hepburn. "She makes the role luminous when it could have been sad or awkward. She has such lightness and grace, you're pretty sure this is the birth of a star," Ebert wrote.
Mulligan had a few credits for TV and film at the time of An Education, but Ebert was correct, this was the beginning of her stardom.
Stream it on IMDb TV
Wildlife - Netflix
Carey Mulligan's most recent big-screen performance was in the 2018 indie Wildlife, which was the feature directorial debut of actor Paul Dano. This time she was the mother to a young man (newcomer Ed Oxenbould) whose worldview is coming into form.
Despite being headlined by Mulligan and Jake Gyllenhaal as the young man's quarrelling and dysfunctional parents, and strong critical response - it is a 93% on Rotten Tomatoes and scored an 80 on Metacritic - the film came and went pretty quietly after a Cannes Film Festival premiere.
It's certainly a quieter film, but the trio of Mulligan, Oxenbould and Gyllenhaal are strong. Even though some of the gorgeous vistas of Montana probably beg for a big screen, the film will play well on your TV if you decide to catch up with it on Netflix.
Stream it on Netflix (opens in new tab)
Inside Llewyn Davis - Amazon Prime Video
It's probably not a stretch to imagine that the Coen Brothers are on many actors' bucket list of directors to work with in their career. If they were on Carey Mulligan's, she got to add a check mark to their name in 2013 with Inside Llewyn Davis.
Mulligan plays Jean, a folk singer who, despite being engaged to Jim (Justin Timberlake), sleeps with Oscar Isaac's titular weary musician and fears that she is now pregnant.
Inside Llewyn Davis was Isaac's big break, but some Mulligan highlights from the film include her getting to sing folk songs with Timberlake and delivering some all-time great put downs toward Isaac, including "Everything you touch turns to shit, you're like King Midas's idiot brother."
Stream it on Amazon Prime Video
Shame - HBO Max
We also got to hear Carey Mulligan sing solo in Steve McQueen's Shame. In the film, Michael Fassbender plays a sex addict whose carefully crafted private life becomes disrupted when his sister, played by Mulligan, arrives.
Despite calling out her singing performances in both Shame and Inside Llewyn Davis, no one would confuse Mulligan with a recording artist - that distinction goes to her husband, Mumford & Sons frontman Marcus Mumford - but her whispery rendition of "New York, New York" in the film is beautiful and haunting.
Stream it on HBO Max (opens in new tab)
Pride & Prejudice - Peacock
We've talked about her star-making role, but Carey Mulligan's career officially got underway four years prior to An Education, when she served as one of the Bennet sisters in Joe Wright's adaptation of Jane Austen's Pride & Prejudice, her first IMDb credited role.
The Bennet sisters were filled with young, promising English actresses. Headlined by Keira Knightley's Oscar-nominated performance as Elizabeth, Mulligan played her sister Kitty, with Rosamund Pike, Jena Malone and Talulah Riley rounding out the group.
Her time on screen was brief, but it's a pretty great film to get to call your first.
Stream it on Peacock (opens in new tab)
And When Did You Last See Your Father? - YouTube
If you're missing any titles from completing the Carey Mulligan filmography, there's a decent chance one of them is And When Did You Last See Your Father? from 2007. Based on English poet Blake Morrison's relationship with his father, and starring Colin Firth and Jim Broadbent, Mulligan gives a supporting performance.
Stream it on YouTube
Mudbound - Netflix
Netflix's pursuit for a Best Picture Oscar began in earnest in 2018, when Roma was widely considered the favorite before the Academy, ultimately, went with Green Book. However, Netflix experienced its first Best Picture snub in 2017, when Mudbound, directed by Dee Rees and starring Mary J. Blige, Jason Mitchell, Garrett Hedlund, and Carey Mulligan, was left out of the top prizes' nominees. Netflix did win its first Oscar trophy in 2017 though.
Mitchell and Hedlund star as two World War II veterans who return home to Mississippi. These two brothers-in-arms find solace in each other, but are threatened by the racism that still engulfs society.
Mary J. Blige was rightly nominated for Best Supporting Actress for her performance, but Mulligan once again proves how consistently reliable she is with a solid turn as Hedlund's sister-in-law, who has her own struggles with her husband.
Stream it on Netflix (opens in new tab)
Drive - IMDb TV
If An Education wasn't your cup of tea, many likely discovered Carey Mulligan in Nicolas Winding Refn's Drive, the uber-cool Ryan Gosling-led crime-drama.
Mulligan plays the neighbor that Gosling's quiet getaway driver befriends and who, along with her son, convinces him to help her ex-con husband (Oscar Isaac) get out of some trouble. While the actual dialogue between the two characters is sparse, the chemistry between Gosling and Mulligan is great.
BAFTA would end up nominating Mulligan for Best Supporting Actress for Drive, which is her only other individual nomination among the major awards groups that she has outside of An Education, oddly enough. Maybe she'd have better luck with the awards bodies if, as Mulligan suggested, they had to prove they watched contending movies.
Stream it on IMDbTV
Wall Street: Money Never Sleeps - Amazon Prime Video
Carey Mulligan's biggest successes thus far in her career have come from indie or smaller studio films. Her two biggest films to date are probably 2013's The Great Gatsby and Oliver Stone's 24-year-later sequel to Wall Street, Wall Street Money: Never Sleeps.
Mulligan was coming right off An Education to star as the daughter of Michael Douglas' Gordon Gekko and the love interest to Shia LaBeouf, who serves in what had been the Charlie Sheen role as Gekko's protege.
Despite the late 2000s financial crisis serving as a backdrop, Wall Street: Money Never Sleeps wasn't a success. Thankfully, neither Mulligan nor any one else on the cast saw a dip in their Hollywood stocks.
Stream it on Amazon Prime Video
Public Enemies - Starz
Coming out in 2009, Carey Mulligan had pretty much a blink-and-you'll-miss-her role in the Michael Mann directed, Johnny Depp-led film Public Enemies.
Telling the tale of John Dillinger and the FBI's pursuit after dubbing him Public Enemy No. 1, one of the few places Dillinger has for safety is in a brothel run by a friend. Mulligan plays one of the girls working at the brothel whom Dillinger knows.
Though one of Mulligan's shortest performances on this list, it's still an underrated movie in my opinion.
Stream it on Starz (opens in new tab)
Brothers - Amazon Prime Video
Carey Mulligan was all over the place in 2009 if you knew where to look. In this instance you could find her as a supporting player in the family/war drama Brothers, which stars Jake Gyllenhaal, Natalie Portman and Tobey Maguire.
The film follows the titular brothers, Gyllenhaal and Maguire. Maguire is a soldier believed to have died in Afghanistan, though he, along with another soldier, was actually captured. Gyllenhaal connects with his sister-in-law (Portman) and nieces when Maguire's character is believed to be dead. Mulligan comes into picture as the widow of one of Maguire's fellow soldiers.
Stream it on Amazon Prime Video
Suffragette - Netflix
Just ahead of the 200 year anniversary of women securing the right to vote in England, Suffragette was released in 2015, led by Carey Mulligan as a young working mother who gets swept up in the movement and joins a radical political activism group.
Fighting alongside Mulligan's character are Helena Bonham Carter, Anne-Marie Duff, and Meryl Streep as one of the movement's key leaders, Emmeline Pankhurst. Brendan Gleeson and Ben Whishaw also star.
Even with a great cast, the film had a quiet reception upon its initial release, though one might have imagined what the response may have been just a year or two later when international protests like the Women's March made headlines and were very much in the spirit of the characters Mulligan and cast brought to the screen.
Stream it on Netflix (opens in new tab)
The Greatest - Amazon Prime Video
The Greatest rounds out what was Carey Mulligan's breakout year in 2009 (the film played the festival circuit before officially being released in the U.S. in 2010). Mulligan stars with a cast that includes Pierce Brosnan, Susan Sarandon, and Aaron Taylor-Johnson, in a film that focuses on a family that attempts to get over the loss of their son.
Stream it on Amazon Prime Video
If you want to make it a Carey Mulligan-themed weekend, there are plenty of movies out there in the streaming-verse to watch right now. Enjoy.
D.C.-based cinephile. Will dabble in just about any movie genre, but passionate about discovering classic films/film history and tracking the Oscar race.
Your Daily Blend of Entertainment News
Thank you for signing up to CinemaBlend. You will receive a verification email shortly.
There was a problem. Please refresh the page and try again.