Promising Young Woman And 7 Other Movies That Prove Carey Mulligan Should Be A Bigger Star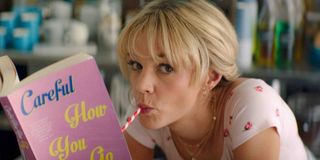 Over the course of the past decade, Carey Mulligan has demonstrated her exceptional acting talents in a variety of distinctive and distinguished roles. Whether you know her best from An Education, The Great Gatsby, Inside Llewyn Davis, Pride & Prejudice (2005), or any number of outstanding lead or supporting roles, Mulligan always brings wit, charm, captivation, and emotional dexterity to her performances, and that's certainly no exception with her most recent performance in Promising Young Woman, which played in theaters on Christmas Day following its Sundance premiere in January. That performance, especially, is one of her most visceral and vivacious performances yet, demonstrating once more her incredible star power talents.
It's with that in mind that we ask, "Why is Carey Mulligan not a bigger star?" Clearly, she has the charisma and skills, but most of her outstanding work is found in smaller, more intimate films, which play to her strength but not always give the actress the audience she deserves. If you love Mulligan and want to see her star-worthy performances, here's what you should watch.
Promising Young Woman (2020)
As an intentionally thorny, unwavering, and brazenly confrontational takedown of toxic masculinity and "boys will be boys" culture, Promising Young Woman, Emerald Fennell's ferocious first film, is a strong early showcase for this exciting early filmmaker, but it also gives us another excellent lead performance from Carey Mulligan. In the role of Cassandra Thomas, a 30-year-old medical school dropout out for revenge against predatory men after a traumatizing incident from college, Mulligan brings a great deal of depth and dynamism to her vigilante protagonist, providing a wickedly dark sense of humor that ultimately masks her own emotional devastation.
While the marketing materials make Promising Young Woman look more lighthearted than it is, the movie itself is intentionally quite bitterly sad, even when it adopts a colorful presentation to intentionally counterbalance the character's tumultuous inner life. As always, Mulligan displays courage and captivation in this complex lead role, presenting a fierceness and fearlessness that's stunning to watch. As one of her most prominent leading roles yet, Mulligan continues to demonstrate the wealth of her vast and versatile talents.
An Education (2009)
In what remains her only Oscar-nominated performance to date, Carey Mulligan provided a spellbinding lead performance in An Education, the period drama which served as Mulligan's Hollywood calling card. As a smart, self-dependent 16-year-old girl who finds herself caught in an affair with an older man (Peter Sarsgaard), this intricate, introspective character piece provided our talented lead actress with an opportunity to showcase a fragile, developing young woman trying to discover her womanhood while caught in a fraught relationship.
In her first leading role, Mulligan gracefully captures the insecurities and evolving depths of this young and learning character, who's based on journalist Lynn Barber from her memoir of the same name. Her performance is, at once, charming and heartbreaking, filled with susceptibility and maturity that show the dynamic layers that she'd continue to demonstrate in her future performances. It's stunningly dense, delicate work, one that plays very well in Mulligan's favor.
Having proven her talents in a number of other supporting turns, An Education was Carey Mulligan's chance to showcase her outstanding star power. Thankfully, she aced it.
Shame (2011)
Director Steve McQueen's sophomore feature, Shame, is a reflective and pensive drama following a bachelor (Michael Fassbender) who has a sex addiction that prevents him from having a functioning lifestyle. His life is made more complicated when his sister (Carey Mulligan) re-enters his life. While this character study primarily follows the perspective of our addiction-addled main character, a man who cannot help others as he's unable to help himself, Mulligan's extroverted lounge character similarly carries an unknown burden of trauma that haunts her throughout the course of this film.
As these two suffering characters find themselves caught in their own individualistic cycles of trauma, Mulligan is given an excellent chance to play against the typically refrained, modest characters that she was associated with after An Education's success. She embodies a suffering-but-present person who uses her art and openness to mask her own feelings of vulnerabilities and difficulties, particularly as she isn't fully able to connect to the one other person who understands the pain she carries on a day-to-day basis. This extraordinary performance is among Mulligan's most devastatingly haunting.
Never Let Me Go (2010)
Based on Kazuo Ishiguro's 2005 novel of the same name, Mark Romanek's Never Let Me Go is a poignant, puncturing blend of character-driven period drama and high-minded dystopia that follows a group of boarding school friends who reconnect later in life. But it's later revealed that these characters aren't merely themselves but clones, scientifically made for the sole purpose of harvesting organs in case their real-life counterparts should need them.
The result is a somberly fascinating blend of sci-fi inventiveness and understated humanity that provides our three young leads, Keira Knightley, Carey Mulligan, and Andrew Garfield, with a chance to demonstrate their exquisite talents. And it's Mulligan, in particular, who really flourishes, particularly as she was coming off the critical, audience, and award season success of An Education only the year prior.
As Kathy, a young woman who fancies a crush on Tommy (Garfield), this doomed romantic relationship is filled with existential melancholy and keenly-observed social and personality-based reflection, which paints a lovely-but-devastating portrait of characters who are, at once, intrinsically humane and detected from reality entirely.
Wildlife (2018)
By both critics and audiences alike, Paul Dano's directorial debut, Wildlife, was sorely overlooked, which is certainly a shame because it features a trio of excellent lead performances from Jake Gyllenhaal, Ed Oxenbould, and Carey Mulligan. But it's Mulligan, in particular, who really stands out in this period drama. She portrays Jeanette Brinson, a domesticated housewife who finds herself emotionally liberated and psychologically unraveling when her husband leaves the picture, with tinges of disquiet and disillusionment at her suburban lifestyle and society's overloaded expectations. Once a character filled with optimistic encouragement, Jeanette falls into a spiral of bitter resentment and rage that's fueled by a turning point in her marriage.
We watch as Jeanette becomes a rapturous personality, but barely identifiable to the woman we briefly knew before. It's an excellent showcase for Mulligan's capability to build and furnish the inner lives of her character to marvelous results, particularly when they chameleon into someone else. In a career full of triumphs, Wildlife showcases some of Carey Mulligan's most spirited acting to date in the film's most impressive performance.
Inside Llewyn Davis (2013)
In Joel and Ethan Coen's wistful, beautifully melancholy Inside Llewyn Davis, we primarily follow the life of our sadsack title character, an immensely talented but arrogant and misfortune person who has all the talent in the world to be a successful folk singer but little of the fortune to pave the way for fame. Amid the early '60s changing era, Davis is a rolling tumbleweed, never able to find his way home — or able to make a proper home for himself. He constantly needs to prove himself, even if that costs him any sense of contentment.
But while Davis is our focal point, the colorful characters he interacts with throughout his hard-fought days are what keep this film from wallowing in remorse for its lonesome protagonist. Among the most notable supporting characters is Carey Mulligan's Jean Berkley, Davis's friend whom he may have impregnated.
In addition to showcasing her strong singing talents, Mulligan brings a jagged edge to her character, which presents her as prickly but also pregnable, as she shares her own insecurities about the world.
Suffragette (2015)
While it's definitely not without its flaws, Suffragette tells a timely story of the growing suffragette movement of early 20th century Britain, primarily from the perspective of Maud Watts (Carey Mulligan), a hard-working wife and mother who finds her life forever changed by this period of revolution. Although its pacing can leave something to be desired, Mulligan's expectedly excellent lead performance gives the movie its sense of conviction and courage handily, showcasing the persistent change of this everyday woman who put everything on the line to stand against the oppression she and many other women regularly faced. Her performance is stirring and sentimental, filled with conviction and nuance that brings this historical personality to the present in a vivid and personable fashion.
Mulligan is always great at finding the complexity of her characters. While she's playing a character who fits into the conventions of a period-based biopic, she continues to find the heartfelt earnestness and forthright spirit of her characters. This is certainly no exception, proving to be another great demonstration of her outstanding acting skills.
It's also worth mentioning her strong work in films like Far From the Maddening Crowd, Drive, and Mudbound, to name only a few more. What's your favorite Carey Mulligan movie? Let us know below!
Your Daily Blend of Entertainment News
Will is an entertainment writer based in Pittsburgh, PA. His writing can also be found in The Playlist, Cut Print Film, We Got This Covered, The Young Folks, Slate and other outlets. He also co-hosts the weekly film/TV podcast Cinemaholics with Jon Negroni and he likes to think he's a professional Garfield enthusiast.