Interview: This Is It Director Kenny Ortega On His Last Work With MJ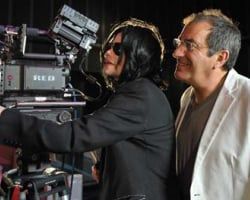 Even though he's an experienced film director, with High School Musical 3 and Newsies behind him, Kenny Ortega didn't start his last adventure with Michael Jackson with the camera in mind. He signed on as the director of "This Is It" with the intention of taking the entire show to London, and had cameras on hand during rehearsals to provide references points for himself and Jackson, as they worked with the rest of the crew to put together the best live concert imaginable.
Of course, nothing turned out as planned. After Jackson died on June 25, Ortega and his team were left with a production that would never go live, but also 80 hours of footage from the rehearsals and behind the scenes, documenting the final days of one of the world's most beloved musicians. It was clear that, in some way, the show could go on after all.
Tomorrow This Is It, a concert movie and documentary about those rehearsals in the Staples Center in Los Angeles, hits theaters nationwide. Last week we talked to Ortega about putting the film together without Jackson, where he was when he heard that Jackson had died, and what he learned about the King of Pop that none of his fans have ever been able to know. Check out our interview below.
You edited down a lot of material--we heard it was 200 hours-- to make this. Does that mean there will be a second film?
It wasn't two hundred hours. It was eighty. Most of that was film footage that Michael and I had produced for special content to appear in the concert. Part of it was behind the scenes, extensive interviews with everybody behind the scenes, the sets going up, the show being built and then part of it were these cameras that were capturing rehearsals. They might do an enhanced, a bigger version, an extended version someday but I do know that the DVD that's coming out next year has a tremendous, weighty additional footage. I've seen it and it's powerful and emotional and moving and fantastic. I would hope that does the trick, personally.
Can you tell us about your reaction when you found out Michael had died?
We were expecting Michael to come in that afternoon to rehearse with us and we were really excited. Michael and I had seen each other the night before. Our phones started going off and text messages and phone calls and 'Is it true? Have you heard? This station is saying that –' and for quite some time I just kept thinking to myself that the gardener could be going to the hospital, that anything could be happening. Knowing the media and the way that it works around Michael, I just didn't go there at all. I didn't allow it to be that. Then it got more intense and more intense and then eventually I got a phone call from my family and then some pretty well known journalists and then from the hospital itself, from one of our promoters who said, 'Michael in fact is here and it is Michael. We'll let you know when we know more.'
So all of us got together, the entire company stopped and we all came together and we put Michael into the circle and all of us just imagined him back with us and in good health and wanted to believe that the circumstances would end up bringing Michael back to us. Time stood still. I received a telephone call from one of our promoters that said Michael in fact had died. I made him repeat it three times because I thought that I was hearing voices. It didn't feel real. It was surreal. Then I said, 'You know what, I'm going to hang up and I'm going to call you back and if this is really you then you're going to answer the phone and then I'm going to know it's the truth.' I was helped into a dressing area and was really going through some kind of a shock. We called him back and he answered the phone and I said, 'Tell me something that only the two of us would know.' He said, 'Kenny, it's me. It's Paul. Stop it. Stop it. Michael's dead.' It just felt like everything inside of me, like a building collapsed, the foundation. Everything inside of me just collapsed like a bomb had dropped. It was surreal beyond things. It was dark and painful and everywhere I looked I just saw people holding each other up and falling to their knees. It was really horrible. No one expected it. As much as it has been said, as much as it's been said in these weeks, we as a family believed in our hearts and in our minds that we were going to London and this was happening.
How do you direct Michael Jackson? Can you say no to him?
You don't tell Michael no. You disagree. You don't ever have to criticize Michael. What you always get with Michael is an open mind and that's all he expects back from you. He would say to me, when he really believed in something that I wasn't on the same page with him about, he'd say, 'Please, please, just promise me that you'll keep it alive in your mind for five minutes. I know you'll come to agree with me.' I would say, 'Oh, you're wrong there, mister.' Michael loved that about our relationship. He called it creative jousting and he loved that. He rolled up his sleeves and we wrestled ideas and it didn't matter. I know that Michael kept inviting me back time and time again because I didn't just yes him, nor I did I boss him. We had a wonderful repartee. I know that Michael trusted me that I would get the work done. He would say to me, 'You build the house. I'll rock it down.'
How did This Is It begin?
He picked the phone up and called me. We had been talking for two years off and on. I'd say, 'What are you thinking?' He'd say, 'You know, it's not enough that you can do something. You have to do it. You must. We'll do it when it's right and we'll do it when I know that it's important enough that I must do it as opposed to it's just something that's out there that we can do.' He was being offered situations like Celine Dion had in Las Vegas and he'd say, 'I'd rather make a film. I don't see any reason to do that right now in my life.' So then I get this phone call and honest to God this is what he said to me; 'Kenny?' I said, 'Yes.' And he said, 'This is it.'
And that became the show?
Yeah, and he said that five times during the conversation. I said, 'You keep saying "This is It".' 'It is. This is going to be my final curtain call. This is it.' I said, 'You should just call the show that. It makes perfect sense.' As we went along over the weeks, everyday he'd say, 'This gives another meaning to "This is It". "This is It", a call to arms. We have to all realize how important it is to invest ourselves and pumping more love back into the world.' He just kept finding more and more and more reasons behind the titles of 'This is It' to nourish the fact that he was doing this and that it was important and that we must.
How much were you involved in directing the music of the film?
I'm all about improvisation. Michael was extraordinary at that. The way that I worked with Michael was that you just paid attention. He led the way. Michael would say, 'Stop,' and everyone would stop and there would be a collective holding of your breath, like [inhales] and he'd say, 'Watch me. Don't jump the gun. I'll lead you. I'm sizzling right now. Let me sizzle.' We'd say, 'Okay, okay. Everyone just let Michael sizzle.' That meant, 'I might want to work the moment. I might want to shake my shoulders. I might want to look over there, over there. I might want to take my time.' He was an expert at timing. He understood how to work an audience as good as any other entertainer that I have ever seen or worked with in my entire career.
Now you have to work without Michael being there. How do you do that?
I had to sort of call myself to attention and snap out of what I was going through emotionally to take on this responsibility and to continue forward with this journey in terms of now becoming the filmmaker. The one thing though that I did every single day, is I would say, 'Michael, boy do I need you to be with me today. Please, don't disappear.' I would walk into the editing room and Michael would be there with me, as would Travis Payne, as would Michael Bearden and then we'd all talk.
Michael talked about working on a move that was going to beat the Moonwalk into the ground. Did you ever see that move?
He was just starting to go to that place. Through his improvisational work, towards the last weeks of rehearsals you started seeing things coming out of Michael and you just went, 'What is that?'
Was there a particular move that he was tending towards?
He did this slow motion thing that he did in "Billie Jean" and in "Beat It," he started jumping up into the air. He looked like he was in slow motion, and when we were watching the film it looked like we had slowed him down. So he was playing with stuff. He was really working with it. The dancers who were less than half his age, I mean we're talking eighteen to twenty one year old dancers, twenty two year old dancers – Michael is fifty years old on that stage. These were eleven of five thousand seven hundred kids from all over the world that were the best dancers on the planet that we had picked to be on the show and they were brought to their knees watching Michael Jackson during the rehearsal.
What's it going to be like to work after this?
I don't know what the future is going to be like, not getting the phone calls, not hearing the new ideas, not getting the invitations. Handing the movie off at the beginning of October and saying, 'Here –' was the hardest thing that I've ever had to do. It really was like giving a child away. That was the first time that I was taken aback, realizing that this was really the end of something. Now it's just about how do we turn this all around and make it mean something and make it worth something, keep his messages alive, do the work that he is no longer here to do and hopefully this film helps a little bit.
Your Daily Blend of Entertainment News
Staff Writer at CinemaBlend