J.J. Abrams Wonders Where Luke Skywalker Is In New Star Wars Video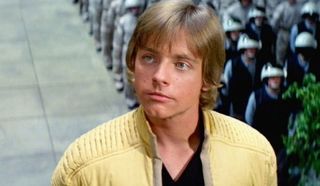 As it turns out, you're not the only one wondering where the hell Luke Skywalker, or at least Mark Hamill, ran off to. We've barely seen him in the marketing for Star Wars: The Force Awakens, aside from that one shot of him giving R2-D2 a pat on the back, and in a new video hyping up the latest endeavor from the Star Wars Force For Change charity initiative, director J.J. Abrams ponders the same question we've all asked.
This video represents the latest team up between the cast, crew, and producers of Star Wars: The Force Awakens and online cause marketplace Omaze to raise funds for worthy causes. At the beginning of production, Abrams and company not only used these videos to give us some of our first glimpses at the highly anticipated return to that far, far away galaxy—with a special emphasis on the practical special and creature effects the film uses—but they also managed to scrape together $7 million for UNICEF's work saving and bettering the lives of children all around the globe. Not bad.
Last time, if you donated to the cause, you were in the running to win every Star Wars fan's dream, a small role in the actual movie. This time out of the gate, however, you can win a trip for you and three guests of your choosing to The Force Awakens red carpet premiere in either Los Angeles or London. Sure, you won't be immortalized in Star Wars lore for all time, but that's a damn sweet prize. And all it will cost you is ten measly bucks.
So, if you've got some cash burning a hole in your pockets, why not kick it towards a good cause. Or actually a number of good causes in this case. Following the lead of Star Trek Beyond, which has also partnered with Omaze for similar efforts, each of the core cast members has chosen a charity near and dear to their hearts for various reasons.
All the core cast members, that is, except Mark Hamill, who is conspicuously absent from this video (as is Harrison Ford, interestingly enough). Much as Luke Skywalker's presence has been a mystery driving Star Wars fans up the wall, this move is an intentional one, and J.J. Abrams definitely has some fun with the fans in this video.
Set 30 years after the Battle of Ender at the end of Return of the Jedi, Star Wars: The Force Awakens opens on December 18, and we'll finally have answers to all, or at least most (some?), of the questions we've had about our favorite space opera.
Your Daily Blend of Entertainment News
Thank you for signing up to CinemaBlend. You will receive a verification email shortly.
There was a problem. Please refresh the page and try again.