Jaime King Getting Attacked For Mother's Day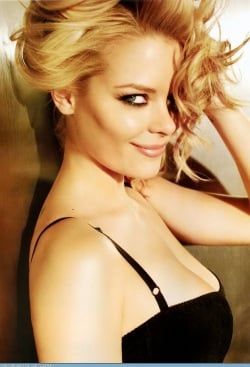 Jaime King actually did a pretty great job of running away from a killer and screaming in My Bloody Valentine 3D, the horror remake that came out this spring and was, believe it or not, a whole lot of fun. Now Darren Lynn Bousman is going to put her through the same routine, casting her as the lead in Mother's Day, a remake of the 1980 cult classic.
In this version, King will play a woman living with her estranged husband and child, and forced to defend her family when two brothers start a killing spree in order to impress their crazy-ass mom. Bousman told Variety "What we're trying to do is elevate this outside of a genre movie,. I've done three Saw films, I've done Repo, and yes, this is horrific at times, but it's much darker and deeper because of the focus on the characters."
Having interviewed King for Bloody Valentine and found her nothing but a delight, I'm rooting for her in whatever she wants to do, including getting chased by psycho killers. I'm also a little interested in what Bousman does next, just because Repo! The Genetic Opera was such a bizarre and beautiful failure. If this movie is even a fraction that weird, it might be worth seeing.
Staff Writer at CinemaBlend