James D'Arcy Will Terrorize Jake Johnson And Damon Wayans Jr. In Let's Be Cops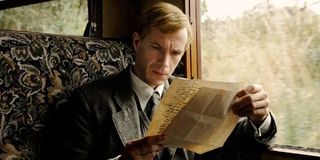 English actor James D'Arcy is best-known Stateside for his roles in dramas like the Napoleonic War adventure Master and Commander, the sprawling romantic epic Cloud Atlas, and the cheeky showbiz biopic Hitchcock. But before long we'll get to see this captivating thespian's comedy chops thanks to the buddy-comedy Let's Be Cops.
Variety reports D'Arcy and Vampire Diaries' Nina Dobrev are the most recent cast members to join the 20th Century Fox comedy penned by Nicholas Thomas and Luke Greenfield. Earlier this year, Greenfield, who is also directing, landed Jake Johnson and Damon Wayans Jr to front this funny feature. The two will play buddies who decide to masquerade as cops, but find themselves in some very real trouble when their charade enrages a real bad guy. It was a solid pairing that had us pumped about this project early on, but this latest casting announcement offers even more intrigue.
For his part D'Arcy has appeared in handful of comedies, mostly on British television. Likewise Dobrev's only comedy credits are on TV, and even then mostly within talk show appearances. So it seems Greenfield is giving each of these dramatic performers a welcomed chance to shake up their images and try out big screen comedy. As to who they'll play, D'Arcy is slated to portray the mobster Johnson and Wayans' characters cross, while Dobrev will take on the role of the latter's love interest. We're still awaiting word on when Let's Be Cops might roll into production, but expect more casting news will follow soon.
Your Daily Blend of Entertainment News
Staff writer at CinemaBlend.
Your Daily Blend of Entertainment News
Thank you for signing up to CinemaBlend. You will receive a verification email shortly.
There was a problem. Please refresh the page and try again.