James Cameron Promises His Avatar Sequels Are Building Momentum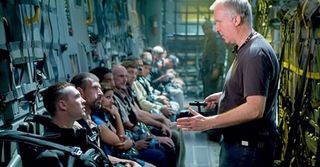 James Cameron does what he wants. As the director of the two highest-grossing movies of all time, not to mention three that were the most expensive movies ever made for their time, Cameron has proven over and over again that he can turn a giant pile of money into an even bigger pile of money, which is truly the most valuable skill in Hollywood. When he chooses to take a decade between projects, or to spend that time diving underneath the ocean in a submarine or taking over acres of New Zealand farmland, both his fans and financiers just have to accept. The guy has the kind of money that allows you to do literally anything before showing up for work.
Lucky for those of us who are fans of his giant-scaled ambitions, Cameron finally appears ready to man up and step back behind the camera on the Avatar sequels he's been promising since 2009. Talking to Play Goes Strong (via Bleeding Cool), Cameron said that he's still in the writing phase on the sequels he plans to film back to back, but "it's building fast":
Between this and word of Fox securing $400 million to finance both these sequels and other films, the pieces seem much closer to coming together than, say, this time last year, when producer Jon Landau was spending his time telling us to be more patient in waiting for more Avatar. This isn't to say that a control freak like Cameron is going to get things started until he's damn good and ready. But if he's optimistic, I think we can choose to be as well.
It's remarkable that Cameron has only made one sequel over the course of his wildly successful career, and it was a highly unusual one-- a sequel that came out 7 years after the original, Terminator 2 was wildly different from the original Terminator in tone and especially scale. As he prepares to make not one but two (and possibly three) more films in this world he's got the challenge of topping himself yet again-- something pretty much no one else in the world is capable of doing. If this were any other franchise, we'd say this much of a delay meant that Avatar 2 was never happening. But this is Cameron we're talking about. He'll do what he wants… and will take his sweet time getting there.
Staff Writer at CinemaBlend
Your Daily Blend of Entertainment News
Thank you for signing up to CinemaBlend. You will receive a verification email shortly.
There was a problem. Please refresh the page and try again.