Japanese Unforgiven Remake Will Star Ken Watanabe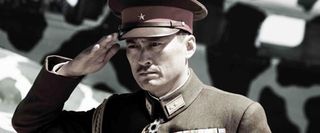 There's a weird symbiotic relationship between Japanese films and Westerns that doesn't happen very often these days, but produced some of the all-time classics. John Sturges did the unthinkable and remade Akira Kurosawa's Seven Samurai into a fantastic Western of its own, The Magnificent Seven. Sergio Leone's A Fistful of Dollars, which shot Clint Eastwood to fame, was adapted from Kurosawa's Yojimbo. And now Japan is returning the flattery with a planned remake of one of Eastwood's own movies, as Warner Japan sets off on its own version of Unforgiven.
Better yet, the film is set to star a genuine Japanese legend, and an actor who's worked with Clint Eastwood himself. Variety reports that Ken Watanabe, who starred in Letters from Iwo Jima and and last appeared in Inception, will play the lead role in a remake of Eastwood's Oscar-winning 1992 film. The action will be set in the same year, 1880, but in the northern Japanese island of Hokkaido, where according to Variety Japanese settlers were displacing native people in a way similar to American settlers of the West. Eastwood's character in the original Unforgiven was a retired outlaw brought back in for one more job, and Watanabe will play a samurai in essentially similar circumstances, when "poverty and a large bounty tempt him into action once again."
Watanabe is one of the most famous Japanese actors here in America, so of course we're all going to respond with "Yeah, he's perfect!" But I'm assuming that audiences in Japan are as impressed by his talents as we are, and that he'll be able to knock out a role even as iconic as William Munny (who, obviously, will have a new name in the Japanese version). Lee Sang-il, who directed the acclaimed Villain, will be directing Yurusarezaru mono-- which, as you might guess, simply means "unforgiven" in Japanese. It's scheduled for release next fall in Japan, and you can probably expect to see it in the States sooner or later given what a high-profile remake it is.
Your Daily Blend of Entertainment News
Staff Writer at CinemaBlend