Jason Bateman's Next Comedy Will Go After Wall Street, The Stock Market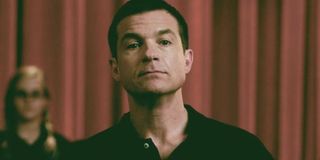 You hear "Wall Street comedy," and you might rightly think Wolf of Wall Street. But Jason Bateman is going in a totally different direction for his upcoming comedy IPO Man.
Deadline reports Jason Bateman will star in and direct IPO Man, a comedy about a man who sold shares of stock in his own life. Remarkably, the film is based on a true story that was covered in a Wired article titled "Meet the Man Who Sold His Fate to Investors At $1 A Share." Fox Searchlight has bought the rights to the piece, and will produce alongside Bateman and his Aggregate partner, Jim Garavente.
The real man behind this unusual story is one Mike Merill, who used a loophole in the IPO language that is intended for stockholders to pay up for a cut of a person's future earnings. He offered up 100,000 shares in himself. 928 sold, mostly to friends and family members. He maintained status as his majority stockholder, but out of curiosity of what would happen, designated this as non-voting stock. This meant that those who contributed to the 928 stocks sold could vote on his choices.
Sometimes, this was good. For instance, his stockholders voted for him to invest about $80 in a Rwandan chicken farmer. Nice. But things took a turn when issues about whether or not he should get a vasectomy and move in with his girlfriend came up. Interestingly, his girlfriend--currently uncast in IPO Man--was only a minority shareholder, and so her say was... well -- compromised.
It sounds like a concept that could make for great comedy, a possible cross between Will Ferrell's Everything Must Go and Jim Carrey's Yes Man. Plus, IPO Man has the potential to skewer Wall Street and the Stock Market along the way.
Fox Searchlight is taking the screenplay's development seriously, bringing in Micah Fitzerman-Blue and Noah Harpster to pen. Both are writers on the critically praised Amazon series Transparent, which stars Jason Bateman's Arrested Development co-star Jeffrey Tambor. But Cinema Blend readers might recognize these names as the scribes who are adapting the story of beloved children's television personality Mr. Rodgers for the film I'm Proud of You. This should mean Fitzerman-Blue and Harpster already have some solid experience translating reality into a promising screenplay.
IPO Man will mark the third feature directed by the Horrible Bosses star. Jason Bateman made his feature directorial debut in 2013 with the hard-R comedy Bad Words, which made $7.7 million in theaters, and received mixed reviews. He's currently in postproduction on his follow-up, The Family Fang, which is based on the Kevin Wilson novel and will co-star Nicole Kidman and Christopher Walken.
IPO Man is now in development. There is no word on when Jason Bateman hopes to lens the comedy.
Your Daily Blend of Entertainment News
Staff writer at CinemaBlend.