Jay Baruchel Talks About Geeking Out On The Sorcerer's Apprentice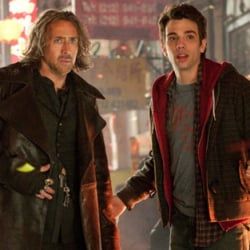 I did a lot of interviews over the weekend, for two different films, but by far the best of the bunch was Jay Baruchel. He's the lead in Paramount's new comedy She's Out of My League which opens next week; we'll have lots more from him and his co-stars on the film sometime in the next week. But right at the end of the candid interview, in which he also discussed meeting his favorite hockey player and vomiting on an airplane, he talked a little about his experience making The Sorcerer's Apprentice, the massive Disney adventure movie that stars him as a young apprentice to a powerful wizard played by Nicolas Cage.
Basically, everything you dream of doing when put one-on-one with Nic Cage, Jay Baruchel got to do. Check out the story he told about being on the set; sadly, his Nic Cage impression doesn't translate to print:
Baruchel also compared the experience of making the film, as well as Tropic Thunder, to playing games as a kid:
The Sorcerer's Apprentice opens July 16, but you can catch Baruchel sooner than that in She's Out of My League on March 12.
Your Daily Blend of Entertainment News
Staff Writer at CinemaBlend