Jemaine Clement Is The Villain Of Men In Black III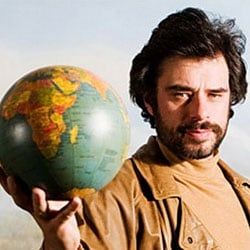 I'd love nothing more to see Jemaine Clement back on my television set for a third Flight of the Conchords season, but instead he's doing Men in Black III. Conchords is dead but Deadline says he's signed on to play the movie's villain.
Clement will play a character named Yaz. No details on who Yaz is, but with a name like that he has to be an alien, and it's pretty easy to imagine Jemaine Clement as a credible alien. I've always suspected he has tentacles somewhere. He'll find himself up against the considerable alien fighting abilities of both Agents Kay and Jay. Both Will Smith and Tommy Lee Jones are set to return along with Josh Brolin as a younger version of Tommy Lee's character. They're targeting the film for a May 25, 2013 release in 3D and since Will Smith is in it, it'll make roughly ten billion dollars, domestically.
Clement has played the movie villain before, just never in a movie anyone wanted to see. He was a capable if utterly weird bad guy in Gentlemen Broncos, a generally terrible movie in which he was utterly misused for no particular reason other than that Jared Hess has no idea how to make a movie. Jemaine Clement however, does know how to play weird characters and Men in Black III could be the mainstream breakout he's seemed right on the cusp of for so long. It's business time.
Your Daily Blend of Entertainment News