Jesse Eisenberg Could Reunite With Noah Baumbach For While We're Young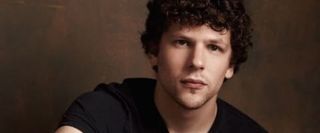 Noah Baumbach is already committed to reuniting with one of his former stars, setting Greenberg's Ben Stiller months ago to star in While We're Young a drama about two couples at different stages in their lives influencing each other. Now he may expand the reunion to another actor, one whom he truly helped make a star. According to The LA Times he's looking to Jesse Eisenberg, who broke out with his role in Baumbach's 2005 film The Squid and the Whale, to fill in the younger male role once occupied by James Franco. Naomi Watts is also in talks for the film, playing the other half of Stiller's couple in a role that Cate Blanchett was signed on for before both she and Franco jumped ship earlier this year.
The Times stresses that there are not deals in place, and giving the revolving door of casting on this film so far I guess we really should make any assumptions here. It's also uncertain who would play Eisenberg's paramour, since Baumbach's other Greenberg Greta Gerwig had once been attached and also walked away. The Baumbach and Eisenberg reunion makes sense not just sentimentally-- Eisenberg's The Social Network producer Scott Rudin is also behind this one. The famously shy Eisenberg, who seemed actively in pain for nearly every minute of the endless Social Network promotional tour last fall, has taken his time picking his follow-up to the performance that got him an Oscar nomination. He's returning to comedy twice in the coming year, with this summer's 30 Minutes or Less and Woody Allen's next Rome-set film, and with While We're Young could make for a return to Baumbach's signature teeth-gnashing, supremely awkward brand of humor. Plus, doesn't the idea of two actors squabbling over which of them the director likes more sound like the kind of painful/hilarious situation Baumbach himself might write into one of this films? It's perfect on so many levels.
Staff Writer at CinemaBlend
Your Daily Blend of Entertainment News
Thank you for signing up to CinemaBlend. You will receive a verification email shortly.
There was a problem. Please refresh the page and try again.