Jessica Alba And Michelle Rodriguez On Board For Machete Sequel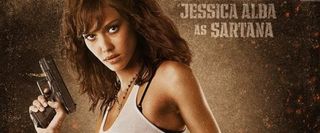 Pretty much as soon as Grindhouse his theaters, Robert Rodriguez was pushing to make a movie based on one of that film's fake trailers, the Danny Trejo-starring Machete. I was skeptical the entire time that he would ever make it happen, and now even years after Machete really did hit theaters, it seems almost impossible that it actually existed. Improbable as it is, Machete did well enough for Rodriguez that he's ready to make its sequel, and unlike all the other projects he's promised over the years, the sequel Machete Kills is gearing up to start production this spring, with financing in place and everything.
Obviously Danny Trejo is returning in the titular role, but he won't be the only returning cast member it seems. Bloody Disgusting reports that both Jessica Alba and Michelle Rodriguez are looking to reprise their roles, Alba as the immigration agent who starts up a romance with Machete and gives him a green card, and Rodriguez as the rebel leader Luz, a.k.a. She, who helps him in his fight against the bad guys. Both characters make sense to return for the next adventure, though it's unclear where they might fit into the story, which finds Machete working with the U.S. government to take down a Mexican drug cartel leader. There are also still plans to round out the trilogy with Machete Kills Again, which Rodriguez has said will take the hero to space, but I guess we should just tackle the sequel before getting ahead of ourselves.
With Alba and Rodriguez on board, will Lindsay Lohan be the next one to reprise her role? Is there anyone else you'd like to see sign on this time? Let us know in the comments
Your Daily Blend of Entertainment News
Staff Writer at CinemaBlend
Your Daily Blend of Entertainment News
Thank you for signing up to CinemaBlend. You will receive a verification email shortly.
There was a problem. Please refresh the page and try again.