Jessica Alba Recreates Horror Movie Images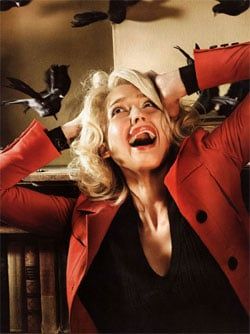 Maybe some of the men folk around here can answer this better than I can, but why is Jessica Alba still with us? Has she ever done a film role that didn't invite active scorn? Has she ever done anything, period, than be kind of hot? And is she really even that hot to begin with?
We know one thing for sure: Latina Magazine is not giving us any answers. Alba has starred for a photo spread for this month's issue, with a series of photos inspired by classic horror films. This, of course, has nothing to do with the fact that Vanity Fair did a spread featuring stars recreating Hitchcock films, right? I guess no one told Alba that recreating a scene from The Birds is an even worse idea when Jodie Foster has recently done the same thing.
The photos, available in the magazine's March issue, really just serve to remind you how expressive a photo can be when done by the right person. Alba, unfortunately, is not that person. Lord knows she tries, poor girl, but opening your mouth and making your eyes huge doesn't really convey fear as effectively as she thinks.
Check out a few of the stills below, or look for it on a magazine rack. Oh, Jessica Alba... I don't know why people like you, but this really isn't going to win you any new fans.
Staff Writer at CinemaBlend
Your Daily Blend of Entertainment News
Thank you for signing up to CinemaBlend. You will receive a verification email shortly.
There was a problem. Please refresh the page and try again.