Jim Carrey Will Rob Banks With Napoleon Dynamite Director In Loomis Fargo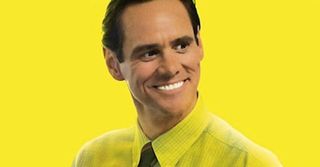 It's weird that we've gotten to this point, but Jim Carrey is actually due for a comeback. The hands-down biggest comedy star of the 90s seemed completely unstoppable for nearly a decade, and was even earning Oscar buzz for some movies while cavorting around in insane Grinch makeup for others (OK, just that one). But with the last movie he starred in being 2011's underwhelming Mr. Popper's Penguins, Carrey is a long way from his glory days, and seems to be lining up a handful of roles that wouldn't just bring him back, but change his image entirely.
He's got a major role in the upcoming action-heavy Kick-Ass, and is co-starring opposite Steve Carell in March's The Incredible Burt Wonderstone, and now he's teaming up with a cult comedy success story to make something completely different from both of those. Carrey is now confirmed to be working with Napoleon Dynamite director Jard Hess on Loomis Fargo, a comedy inspired by the true story of a disgruntled bank worker who teams up with his crush to rob his employers.
Relativity Media has now acquired the worldwide rights to finance and distribute the film, which starts production in April. If Hess's track record post-Napoleon Dynamite has you worried, there's plenty of talent behind the scenes to balance that out, including a screenplay from Up All Night creator Emily Spivey and none other than SNL mastermind Lorne Michaels on board as producer, along with the Eastbound and Down team of Jody Hill and Danny McBride. It's hard to imagine a mash-up of Napoleon Dynamite, SNL and Eastbound & Down, but I have to admit-- I'm kind of intrigued by whatever that might turn out to be.
Staff Writer at CinemaBlend
Your Daily Blend of Entertainment News
Thank you for signing up to CinemaBlend. You will receive a verification email shortly.
There was a problem. Please refresh the page and try again.