Joaquin Phoenix May Reunite With M. Night Shyamalan On A Mysterious Thriller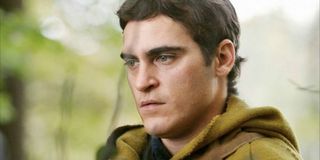 It's been over a decade since Joaquin Phoenix and M. Night Shyamalan worked together. Since 2004's The Village, Phoenix's stock has risen and risen to the point that he's one of the most interesting leading men in movies. Meanwhile, Shyamalan's has plummeted to an astonishing depth. But it looks as though Joaquin Phoenix is going to help him out of this slump by starring in the director's next project.
According to Deadline, Joaquin Phoenix is currently in discussions to star in the brand spanking new movie from M. Night Shyamalan. What will the film entail? At the moment, only individuals extremely close to the project know the plot and logline for it. Which, because it's an M. Night Shyamalan movie, is hardly surprising, as he tries to keep everything as close to his vest as possible before the film is released.
However, rather encouragingly, the film won't be a big-budgeted affair, and will clock in at around the $5 million mark, according to reports. Why am I so pleased with the restraint being put upon the director? Well, unfortunately, his recent forays into bigger-budget filmmaking have resulted in bloated, CGI-heavy films that forgo plot and genuine tension for spectacle. I'm looking at you, After Earth and The Last Airbender.
Joaquin Phoenix and M. Night Shyamalan previously collaborated on 2002's Signs and then, two years later, The Village. Both of these, it could be argued, are the director's last decent films. In fact, screw that, I'm going to just assume that you all agree with me, because Lady In The Water, The Happening, The Last Airbender, and After Earth were all diabolical.
But while Shyamalan has struggled, Joaquin Phoenix has thrived thanks to the likes of Walk The Line, We Own The Night, Two Lovers, The Master, Her, The Immigrant, and Inherent Vice. He has produced towering performances inevery single one of those.
However, there's a hint that Shyamalan might be returning to some good form, as well. The Visit, which he wrote and directed for Universal Pictures for around $5 million, has been received very well ahead of its release next month. It revolves around a single mother whose family life starts to go haywire after her son and daughter visit their grandparents.
Meanwhile, Wayward Pines, which Shyamalan executively produced (as well as directed the pilot), also fared well when it was aired on Fox; receiving good reviews and strong ratings. Re-teaming with Joaquin Phoenix would certainly suggest that his next project would have some credence too, as the actor has become more and more particular in recent years. And, barring Irrational Man, they've all been rather superb films.
Your Daily Blend of Entertainment News
Thank you for signing up to CinemaBlend. You will receive a verification email shortly.
There was a problem. Please refresh the page and try again.