Joaquin Phoenix Rap Documentary Actually Exists, And Is For Sale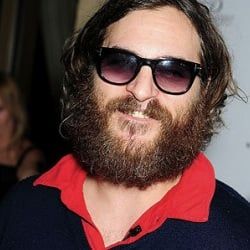 Turns out I might be able to make my feature film debut after all! Remember a little over a year ago, when Joaquin Phoenix grew out a beard, claimed to be starting a rap career and completely pissed off David Letterman? I was part of a roundtable interview with Phoenix for his film Two Lovers, and was filmed by Casey Affleck, who claimed to be making a documentary about his brother-in-law's transition from actor for musician. It was a bizarre day, which you can read all about here, and I never expected it to lead to anything but my own lingering dislike of Casey Affleck-- I was 100% sure this movie would never get made.
And of course, I was wrong. Deadline Hollywood reports that Affleck has screened the film for potential buyers, one of whom was Harvey Weinstein, and a deal may be made in a couple of days. There's no word on what the film is, whether or not it reveals that Phoenix's whole stunt was just for publicity and shits and giggles, or even if the whole thing is the hoax many expected it was. I have serious doubts that any footage from the hour-plus Affleck spent grilling me and my colleagues will make it in the film, but I will be very interested to see what does fit in there. If this movie coming out means we can see the return of Joaquin Phoenix, actor, then it will have all been worth it.
Your Daily Blend of Entertainment News
Staff Writer at CinemaBlend