Joe Namath Biopic Coming From The Wolverine Director James Mangold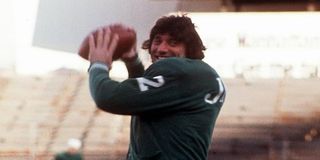 Joe Namath led a relatively baller life. Good looking, popular in New York, and an athlete of iconic success, Broadway Joe did his part to set the standard of fame. It's hard to find a lot of conflict and drama in the story of one of the definitive dudes of the twentieth century (perhaps in his late-in-life alcoholism?), but it looks like a new biopic is going to attempt just that.
THR reports that director James Mangold and screenwriters Michael Brandt and Derek Haas are teaming up for a movie about the famed football legend. Mangold is in talks to helm the film, which will chart the life of one of the greatest and most charismatic athletes of his time - the legendary New York Jet who once famously guaranteed, and then delivered, a Super Bowl victory. If Mangold signs on, he'll be re-teaming with 3:10 To Yuma writers Brandt and Haas, whose previous credits also include Wanted. Considering the pedigree, they could get almost any leading man they wanted for such a role.
Broadway Joe was larger than life in an age before round-the-clock mass-media sports coverage, which to a certain generation is ancient history. The Hall Of Famer led the Jets to victory in Super Bowl III and ended his career with 68 wins and 71 losses, throwing a spectacular 173 touchdowns, which ranks him at... well, tied for #56 on the all-time NFL leaderboard. But who cares? Broadway Joe was famously busy romancing every woman in sight, leading the life of a bachelor into his 40's. When he married, it was an unusual move for such a famous bachelor, though he later was caught drunkenly flirting with sideline reporter Suzy Kolber during a game. Later, he checked himself into rehab. But in his peak, he was a legend. He even tried movies for a while, starring as the lead in biker epic CC And Company:
The question is, when would Mangold actually have time to make a Joe Namath biopic? He's currently attached to an untitled Wolverine movie that's coming in 2017, but what is that movie even about in the wake of X-Men: Days Of Future Past? Even though Hugh Jackman has openly spoke about tackling the Old Man Logan story, Mangold might want to go in another direction. The Wolverine made $414 million worldwide, but if Mangold is looking at other properties, you wonder if Fox knows exactly what to do with the adamantium-clawed hero, particularly considering he might just show up in X-Men: Apocalypse.
Your Daily Blend of Entertainment News
Thank you for signing up to CinemaBlend. You will receive a verification email shortly.
There was a problem. Please refresh the page and try again.