Joel McHale Sleeps With Anna Faris In What's Your Number?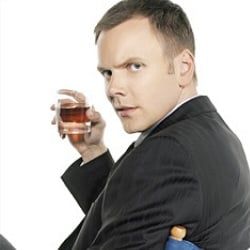 Just two days ago Joel McHale was announced as part of the massive ensemble cast for the comedy The Big Year, but the Community star won't stop until he's completely taken the movies by storm. THR reports that McHale is in final negotiations to join the Anna Faris comedy What's Your Number?, playing the boss she "accidentally" sleeps with early in the film.
That one-night stand is what spurs Faris's character's quest to find "the one" among men she's already slept with, figuring that she can't sleep with more than twenty men because, well, that gets into antiquated ideas of what makes a woman a "slut" that I don't feel like dealing with right now. The film also stars Zachary Quinto and Andy Samberg as two of the other exes, and Chris Evans as the across-the-hall neighbor who, we're assuming, inevitably becomes the one true love. I can't imagine what would make a woman choose bland Chris Evans over hilarious Joel McHale, but that's just me.
Your Daily Blend of Entertainment News
Staff Writer at CinemaBlend