Johnny Depp's 21 Jump Street Role Is Much Bigger Than A Cameo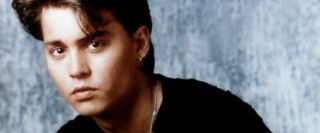 For a while it looked as if Johnny Depp wouldn't be able to make an appearance in the upcoming 21 Jump Street, an adaptation of the TV show that made him famous back in the 80s. Depp wanted to make an appearance but claimed nobody had asked him, but then rumor had it that Depp would indeed be making a cameo, because come on, the people making this movie aren't stupid. If you've got Johnny Depp wanting to make a cameo, you give him a cameo, no matter what you're making.
But now, according to Jake Johnson, the star of the new sitcom The New Girl who also has a role in 21 Jump Street, Depp's appearance might be more than just a walk-on cameo. In fact, the role is so big that Johnson himself actually auditioned for it, and thought he had a good shot at getting it before his agent broke the news. Here's how he explained it to The Today Show:
Johnson eventually got cast as the principal of the school where Jonah Hill and Channing Tatum's undercover cop characters enroll, so it all ended pretty well. But now I'm really dying to know exactly how big a part Depp will play in the film, and how meta it might get given his history with the story. Are we looking at a Wedding Crashers kind of situation, where Depp is a washed-up iconic of the past who warns the new cops not to turn out like he did? Are we looking at a Tom Cruise-in-Tropic Thunder kind of silly performance? Or is Johnson just adding another layer of mystery on top of what's really just a regular cameo? The movie hits theaters on March 16 next year, and if the people behind it are smart, they'll keep this under wraps so we can all be properly surprised when the time comes.
Staff Writer at CinemaBlend
Your Daily Blend of Entertainment News
Thank you for signing up to CinemaBlend. You will receive a verification email shortly.
There was a problem. Please refresh the page and try again.