Johnny Depp Is Back As Captain Jack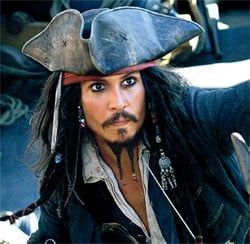 It looks like the fourth Pirates of the Caribbean movie is now on. Johnny Depp has just agreed to reprise his role as Captain Jack Sparrow in Pirates of the Caribbean 4. According to Variety, Disney has him chained to the Black Pearl for at least one more film.
Still no confirmation on what it'll be about or even if any of the rest of the cast might return, but I suppose that doesn't matter. As long as you have Captain Jack Sparrow, not only do you have the worst pirate you've ever seen, you also have a Pirates of the Caribbean movie.
In addition to putting his tricorne hat back on, Depp has also agreed to a slew of other projects for Disney. He'll also be Tonto in a Lone Ranger movie, and play the Mad Hatter in a Tim Burton take on Alice in Wonderland. Basically, Johnny Depp is on a mission to get his face on every single ride in the Magic Kingdom. All he needs to do now is grab a pair of Mickey Mouse ears and get himself drawn into a cartoon.
No word on release dates for Pirates 4 or Lone Ranger yet, but Alice in Wonderland should show up in 2010.
Your Daily Blend of Entertainment News