Johnny Depp Wants Rob Marshall To Help Him Remake The Thin Man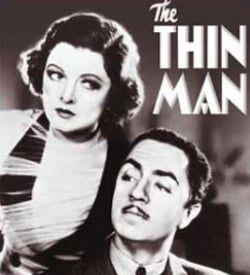 Johnny Depp is one of those magpie Hollywood figures who is showing interest in something new seemingly every minute, whether it's remaking 60s cult series with his buddy Tim Burton, trying to play The Lone Ranger or considering a team-up with Kathryn Bigelow-- and that's just within the last few months. Obviously Depp knows he's one of very few actors who can get his dream project going, and while he's got Disney writing him checks to appear as Jack Sparrow one more time, he's going to keep taking advantage of it.
The latest dream project to cross his mind, according to Vulture, is an adaptation of The Thin Man, Dashiell Hammett's novel about a detective who gives up his career when he marries a socialite but gets drawn back into one last murder investigation. The novel inspired six films starring William Powell and Myrna Loy as main characters Nick and Nora Charles, starting with 1934's The Thin Man and ending with 1947's Song of the Thin Man. Hammett himself never wrote any sequels to his novel, but thanks to the films Nick and Nora remain some of the most iconic characters of the 30s and 40s detective genre.
Depp wants Rob Marshall, who he's currently working with on Pirates of the Caribbean: On Stranger Tides, to direct the film, presumably since the two will happily jump the Pirates ship once this installment is through. Depp wants to develop the film at Warner Bros., where his Infinitum Nihil production company is set up, and even though there's no script yet he's eager to start development.
Separately Vulture is also hearing that Marshall is getting ready to meet with Universal about taking over as the director of Wicked, their adaptation of the smash hit stage musical. We reported that was possible back in July, but now it seems Marshall is more serious about returning to his musical roots. Can he find time for that one and Depp's Thin Man idea? Or is this another big Johnny Depp project that'll get lost in the shuffle of everything else he's interested in?
Staff Writer at CinemaBlend
Your Daily Blend of Entertainment News
Thank you for signing up to CinemaBlend. You will receive a verification email shortly.
There was a problem. Please refresh the page and try again.