Jonah Hill In Talks To Join Martin Scorsese's The Wolf Of Wall Street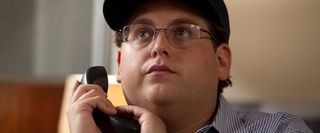 Better known for his comedic performances, Jonah Hill proved his ability to take on a dramatic role when he starred alongside Brad Pitt in Moneyball. In addition to Hill's strong performance, the success of the film, which included an Oscar nom for Hill, certainly helped his credibility as a dramatic actor. With the success of Moneyball, it's not a huge surprise to see him pursuing other dramatic roles, among which may be the Scorsese-directed film The Wolf of Wall Street.
The Wolf of Wall Street follows the rise and fall of Jordan Belfort, a man who made a fortune in the stock market and started the firm that apparently inspired the story for the film Boiler Room. He was also known to party hard and have substance abuse issues.
Variety shared the latest casting news for The Wolf of Wall Street, stating that Hill is in negotiations to star alongside Leonardo DiCaprio in Scorsese's film, which is written by Terence Winter and based on Belfort's memoir. Should the deal go through, Hill will play Belfort's close friend and business partner. It's also mentioned that he becomes addicted to cocaine.
As a fan of Hill's comedic work, and the performance he delivered in Moneyball, I think it's great to see that he's pursuing other dramatic roles. There's definite potential for some great chemistry between Hill and DiCaprio, much in the way Hill and Brad Pitt worked well together on screen. Between that and Scorsese's direction, there's certainly reason enough to look forward to this one.
Your Daily Blend of Entertainment News
Thank you for signing up to CinemaBlend. You will receive a verification email shortly.
There was a problem. Please refresh the page and try again.