Jonah Hill Wants His Minivan Back In The New Sitter Trailer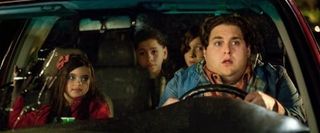 "Babysitting movies" is a genre that doesn't seem to get enough play these days. Just think of the niche's long and respectable history. Adventures in Babysitting. Don't Tell Mom the Babysitter's Dead. Uncle Buck. Mr. Nanny. Okay, I should have stopped before that last one, but still. Thankfully, now director David Gordon Green (Pineapple Express) and Jonah Hill are bringing us a new entry courtesy of The Sitter, which casts Hill as a irresponsible college student tasked with keeping tabs on three little rug-rats. Before the night is over, of course, he winds up with problems bigger than simply where to stash the kids so he can have sex with his girlfriend. Drug-dealer problems. Sharting problems. And the kids...something's gotta be done about those kids!
Check out the trailer below and you can also watch it in full HD over on Apple.
The "babysitter comedy" hasn't really received the R-rated comedy treatment yet, so this one could be fun. The script was written by Brian Gatewood and Alessandro Tanaka (who, at first glance, I thought was the hot Cylon girl from Caprica). The Sitter is their first produced feature screenplay, but it must have won them some fans. They've got three other projects lined up, including having worked on (shudder) the big-screen Baywatch movie.
Plus, The Sitter was obviously shot before Jonah Hill lost all that weight. I'm happy for his health, 'cause goodness knows Hollywood's "fat funny guys" don't have a good track record of living to a ripe old age. Still, this might be your last chance to enjoy Hill's chubby incarnation, so get it while you can.
The Sitter opens in theaters on December 9th.
Your Daily Blend of Entertainment News
Thank you for signing up to CinemaBlend. You will receive a verification email shortly.
There was a problem. Please refresh the page and try again.