Jonah Hill Was Offered A Role in Tarantino's Django Unchained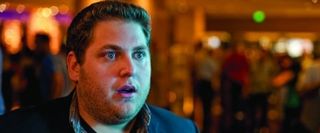 If you've been following movie news lately -- and you probably wouldn't be reading this if you haven't -- you might have noticed that damn near everyone is in Quentin Tarantino's next movie, Django Unchained. The cast already includes names like Leonardo DiCaprio, Samuel L. Jackson, Christoph Waltz, Kurt Russell, Jamie Foxx, Anthony LaPaglia, and Don Freakin' Johnson. The rule seems to be that if you're not actually in Django Unchained, you were probably almost in it at one point. Case in point: Jonah Hill, who told MTV News that he had to turn down a role in Django because of scheduling problems.
The offer is just another promising sign for Hill's career as he attempts to prove he can do more than just comedy. So far that plan has involved losing a ton of weight and getting lots of praise for his role opposite Brad Pitt in Moneyball, so good for him. Hill seems to have a solid head on his shoulders when it comes to picking projects. He told MTV News that "It doesn't matter what kind of movie it is to me, it just matters what's going to be the best movie at that time."
Hill doesn't drop any hints about which role he would have played if he'd taken the Django offer. Written and directed by Quentin Tarantino, Django Unchained tells the story of a former slave who has become a bounty hunter and sets out to rescue his wife and take revenge on his former master. It's scheduled to hit theaters on December 25th, 2012.
In the mean time, the cast continues to grow: Deadline reports today that Todd Allen, who has appeared in projects such as The Apostle and the Friday Night Lights TV series, has joined the cast.
Your Daily Blend of Entertainment News