Julia Roberts Explains Why She Almost Turned Mirror Mirror Down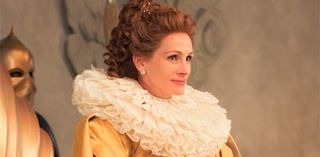 It's one of the most famous adages in Hollywood: it's always more fun to play the villain. In the cinematic world the hero has to play by the rules in order to save the day, but there are no rules for the antagonist, who will stop at nothing to accomplish their evil tasks. But does qualify for an actor who has spent her entire career on the side audiences are rooting for? For Julia Roberts, who plays the Evil Queen in the upcoming Mirror Mirror, it does.
Attending a press conference along with director Tarsem Singh, co-star Lily Collins, and producers Kevin Bishop and Bernie Goldman, Roberts was asked if the old adage is true, not only because of the freedom the character had, but because she had to worry less about the reality.
"There aren't any real rules of syntax or reality that apply to her, so I could kind of do anything and just go off the rails in any direction at any time and it would make sense to me," Roberts said. "You don't have to worry too much about the reality of 'Would a person really do this?'"
But while the Oscar-winning actress did enjoy the experience, it wasn't an entirely organic one. Rather than trying to find the Evil Queen inside of her, she instead chose to use people she knows as references. While she wouldn't give up any names, she described them as, "people I know better than I wish I did."
Fortunately, she did let the wickedness of the character affect go beyond the performance, instead making an actual effort to foster a better relationship with her fellow actors. Asked how she and Collins got along on set, she jokingly pulled her young co-stars hair and said, "I can move her closer to me and she could answer," before revealing, "We always try to take better care of our relationship because of the nasty undertones and sometimes overtones of our scenes."
As much as she ended up enjoying her work on the film and the people involved, Mirror Mirror was actually a project she nearly turned down. Explaining that her initial reaction was a lack of interest, what ultimately turned her around was the idea of working with Tarsem and a feeling she got while meeting with the filmmaker.
"When I heard that it was his movie, his interpretation, I thought, 'Okay, well I'd love to meet him and if I have to go and sit and hear him talk about Snow White for an hour and just talk about other things than that's what we'll do,'" Roberts said. "He had such a great take on it, he had such a vibrant personality…and I read the script that he had and I was really taken, really surprised, and suddenly thought, 'Wait a minute, this is all really coming together in an unexpected way,' and off we went."
But if she wasn't initially drawn to the character and the wickedness wasn't organic, does that mean that Julia Roberts has no malevolence inside of her? Asked what the most evil thing she ever did was, her answer was simple: "Lie to the press. But it was only one time."
Your Daily Blend of Entertainment News
Assistant Managing Editor
NJ native who calls LA home and lives in a Dreamatorium. A decade-plus CinemaBlend veteran who is endlessly enthusiastic about the career he's dreamt of since seventh grade.