Julia Roberts To Star In Batkid Begins, Get The Details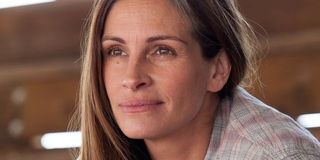 Remember that uplifting story about the sick little boy named Miles Scott, who became the center of attention when the Make-A-Wish Foundation teamed up with the city of San Francisco to help make his dream of becoming the superhero Batkid for a day come true? Well, you may or may not know that the resulting footage from that momentous occasion was eventually turned into a documentary called Batkid Begins: A Wish Heard Around The World – A Dana Nachman Film, which chronicled Miles' big day of fighting crime in the city. Now, in a recent turn of events, one of Hollywood's finest, Julia Roberts, is now set to star in a feature remake of the documentary.
It was last night when the news broke that Roberts was going to be involved in the feature remake of the Batkid Begins story. According to a Submarine press release, Roberts is attached to the remake rights and will star in the feature remake of the real life story about how Miles, a 5 year old boy with leukemia, became everyone's #1 superhero when an entire city rallied around him for a great cause. The event, which brought together over 25,000 San Francisco residents, became a global phenomenon when social media outlets like Mashable, Facebook, Twitter, Instagram and others were utilized to include over 2 billion participants around the world.
Roberts is not only set to star in the feature remake, as she will also produce the film with Dana Nachman serving as Executive Producer, alongside Josh and Dan Braun of Submarine. Naturally, Nachman sounds very excited with the latest turn of events.
Batkid's Make-A-Wish day really does make for a heartwarming story. Miles, who was diagnosed with leukemia at only 18 months old, began his dream day cruising the streets around Union Square in a black Lamborghini that was decorated with decals to look like the Batmobile. He rescued a damsel in distress who was tied to the cable car tracks and strapped with a fake bomb. Led by an adult Batman impersonator, Miles then prevented the Riddler from robbing the downtown bank, after which he was presented a key to the city.
The announcement that Roberts was onboard for a feature remake was only part of what made up another big day for the pint-sized superhero. It was also the eve of the Indiegogo-produced Batkid Begins: A Wish Heard Around The World's big premiere at Slamdance Film Festival. That news, combined with word that Miles' leukemia is now in remission, creates for a pretty powerful story, doesn't it?
Your Daily Blend of Entertainment News
Thank you for signing up to CinemaBlend. You will receive a verification email shortly.
There was a problem. Please refresh the page and try again.