Jupiter Ascending Reveals Plot As Wachowskis Begin Production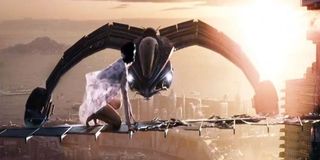 Siblings and filmmakers Lana Wachowski and Andy Wachowski don't make simple narratives. After earning indie cred with their subversive debut Bound, they exploded onto the mainstream movie scene with the mind-bending blockbuster The Matrix. Of course, their efforts have not always met with success. Their latest, Cloud Atlas, earned mixed reviews and struggled at the box office. Still, weaving together six storylines through different settings while recasting its actors in various roles throughout time and space, no one could accuse the Wachowskis or co-director Tom Tykwer of lacking ambition. This has lovers and detractors of Cloud Atlas alike anticipating the Wachowski Siblings' next venture Jupiter Ascending.
Previously titled Jupiter Rising, the original science fiction action feature penned by the Wachowskis first hit our radar in the summer of 2011. By the fall, it was called Jupiter Ascending, and A-listers like Natalie Portman and Channing Tatum were being eyed. This spring Tatum and Mila Kunis signed on, along with Sean Bean, Eddie Redmayne, Douglas Booth, and Tuppence Middleton. But while we were getting rough approximations of plot and vague character descriptions, the Wachowskis were still playing press releases close to the vest. Now as Jupiter Ascending begins productun, this dynamic directing duo has at long last unveiled an official plot synopsis:
Finally, we know the names of Kunis and Tatum's characters, and have some idea what the film's title refers to. Not only is Jupiter Ascending an allusion to the Zodiac, but also the destiny of its title character! Ratcheting up the drama of this adventure tale, Jupiter doesn't know about her prophesized rise to power, but previous reports tell us the extraterrestrial Queen of the Universe does, and so wants Jupiter dead. According to these same early reports, Caine is the Queen's huntsman in what seems to be a sci-fi Snow White tale.
Between the lively Mirror, Mirror and the deadly dull Snow White and the Huntsman, I would have thought I'd be burnt out on tales of a lost princess trying to reclaim her throne. But with the Wachowskis writing and directing, Jupiter Ascending promises to be something sensational. This sci-fi epic's release date--July 25th, 2014—can't come fast enough.
Your Daily Blend of Entertainment News
Staff writer at CinemaBlend.