The Wachowski Siblings Don't Think They'll Ever Get To Make Another Big-Budget Movie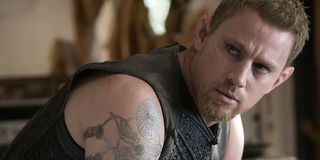 Over the past few weeks, the Wachowski siblings have become the unofficial poster children or "Original Filmmaking," with some film writers going so far as to ask cinema fans to support the likes of Jupiter Ascending while, at the same time, acknowledging that it's a disappointing film. The sentiment seemed to suggest that if free-thinking, broad-stroke-painting filmmaking like Jupiter can't find an audience, studios will stop taking risks and handing budgets to directors who don't want to reboot a cherished relic or further a superhero franchise.
Now the Wachowskis, themselves, are furthering that argument by assuming that they've reached the end of the road when it comes to studios handing them large checks and asking to see their "vision" on screen. When speaking with the Wall Street Journal, Lana Wachowski laments:
Andy Wachowski chimes in with, "It was a good run."
So why must it end? Because this is show BUSINESS, and the Wachowskis have proven over the years that they are not a good return-on-investment for any studio. Their biggest hit, The Matrix Reloaded, earned $281 million in 2003, but was coming off the word-of-mouth sensation that was the original Matrix. Once fans got buried in the mythology of that world, the franchise course-corrected itself and The Matrix Revolutions dropped back down to Earth with a $139 million domestic box-office take.
Outside of the Matrix movies, the Wachowskis' track record is dim. Despite its bid to appeal to a family-friendly audience, the siblings' Speed Racer stalled out at $93 million worldwide (against a reported $120 million budget). Cloud Atlas did slightly better. The ensemble picture earned $130 million globally, but reportedly cost more than Speed Racer. And for some odd reason, the Wachowskis were given $176 million to make Jupiter Ascending. The movie made $18 million in its opening weekend. Brutal.
The notion that the movie-going community has to blindly support the Wachowskis to preserve independent cinema is flawed, though. Oscar-nominated movies like Whiplash, Birdman, Foxcatcher and Boyhood prove that powerful voices can bring interesting stories to the screen. The numbers just suggest that audiences are tired of the way that the Wachowskis tell their narratives (and studios are tired of funding them).
Managing Director at CinemaBlend. ReelBlend cohost. A movie junkie who's Infatuated with comic-book films. Helped get the Snyder Cut released, then wrote a book about it.
Your Daily Blend of Entertainment News
Thank you for signing up to CinemaBlend. You will receive a verification email shortly.
There was a problem. Please refresh the page and try again.