Kathryn Hahn Headlines M. Night Shyamalan's Next Movie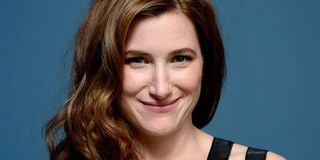 Comedienne Kathryn Hahn has been building an outstanding reputation as a solid supporting player and unforgettable scene stealer with appearances in Our Idiot Brother, Wanderlust, Girl, Parks and Recreation and The Secret Life of Walter Mitty. For her next challenge, Hahn is doing something really risky. She'll leave comedy behind to tackle a thriller from the once celebrated writer-director M. Night Shyamalan. Why? Your guess is as good as ours.
The Wrap reports Hahn will star alongside child actor Ed Oxenbould (Alexander and the Terrible, Horrible, No Good, Very Bad Day) in the thriller Sundowning. This news hits as production is nearly wrapped in Shymalan's Pennsylvania-based shoot. Hahn'll play the single mother of two young children, a girl and her protective brother, potrayed by Oxenbould. What should be a simple visit to the kids' grandparents becomes a nightmare when "things go very wrong."
Shyamalan is keeping mum on any other details of the plot; but the title Sundowning could well be a hint. "Sundowning" is the term for a form of dementia most commonly associated with Alzheimer's disease. Named because it's often triggered at evening, sundowning typically entails increased confusion, mood swings, mental and physical fatigue, tremors and restlessness. With this in mind, Sundowning sounds like it'll have a pretty depressing premise. But maybe Shyamalan will surprise us. That'd be the only twist we'd hope for here.
It's a bit shocking that Hahn would sign on to a project like this. Her star is on the rise after critical praise for her starring turn in the dramedy Afternoon Delight and co-starring role in Jason Bateman's directorial debut Bad Words. Why would she tie herself to Shyamalan, who hasn't made a well-reviewed movie since 2002's Signs?
Sundowning will be the follow-up to Shyamalan's 2013 flop After Earth, a $130 million movie with Will Smith, that took in just $60 million domestically. (Overseas sales boosted its worldwide total to $243 mil, but the extravagant ad campaign that decidedly shied away from marketing Shyamalan's involvement took and untold chunk out of the could-be profits.) Before that was the rightly reviled The Last Airbender which made a slight profit along with a mess out of the sensational story of the animated series on which it was based. Preceding that was the financially successful but ridiculous The Happening. It's been a clear downward trajectory, but could Sundowning turn things around for Shyamalan?
Sundowning is said to be a return to the kind of tightly knit terror he broke through with in The Sixth Sense. It's reported low budget makes it a lesser risk for its producers, but what will the project mean for Hahn? We'll just have to wait and see until Sundowning hits theaters, presumably later this year.
This poll is no longer available.
Staff writer at CinemaBlend.
Your Daily Blend of Entertainment News
Thank you for signing up to CinemaBlend. You will receive a verification email shortly.
There was a problem. Please refresh the page and try again.