Keira Knightley Is Beautiful And Damned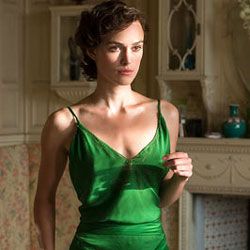 Romanticizing the secret lives of history's most famous authors has become a big deal recently. They did it to Jane Austen, they did it to James Barry, heck they even did it to Beatrix Potter, making her bunny drawings terribly romantic. Now they're doing it to F. Scott Fitzgerald.
HR says Nick Cassavetes has signed up to direct a movie about the love story between F. Scott Fitzgerald and Zelda Sayme. It's called The Beautiful and the Damned, and it's a period movie, so that of course means Keira Knightley is involved. She'll play Zelda Sayme. No word yet on who will play the guy who wrote some of the most overrated novels in American history. I'm looking at you, Great Gatsby. Get some lightsabers or something. Snooze.
The story of Fiztgerald and Sayme, according to the never wrong (except when it is) all powerful resource Wikipedia, goes a little something like this: Guy meets girl. Guy promises girl he has money. Girl agrees to marry guy. Girl learns guy has no money. Girl breaks off engagement. Guy sells a novel. Girl resumes engagement. The novel sells big, they get married. Obviously, they married for love.
Your Daily Blend of Entertainment News