Kevin Spacey Trying Out His Starpower In China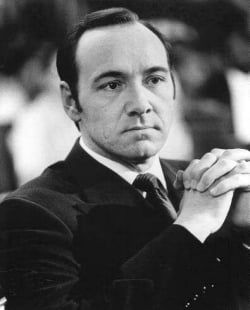 Listen, I know Kevin Spacey isn't exactly the big box office draw he was in the 90s, but does he really need to go to China to get work? According to THR, Spacey is about to become the biggest Hollywood actor to star in a 100% Chinese movie, taking a lead role in the black comedy Inseparable.
In the film, which will be in both Mandarin and English, Spacey will play "a mysterious American expatriate who befriends a young engineer with problems at work and at home." Obviously starring in a movie over in China isn't what it used to be-- the Chinese and American economies are more inextricably linked than ever, and Chinese money is pouring into American filmmaking because, well, they've got plenty of it. Spacey's gamble will be interesting to watch-- it's hard to imagine that a Chinese black comedy will translate all that well for American moviegoers, but if Spacey collects a nice paycheck and comes away a happy man, it might not be long before other big American stars whose box office starts have dimmed start doing the same thing.
Staff Writer at CinemaBlend
Your Daily Blend of Entertainment News
Thank you for signing up to CinemaBlend. You will receive a verification email shortly.
There was a problem. Please refresh the page and try again.