The Killing Star Mireille Enos Marries Josh Brolin For Gangster Squad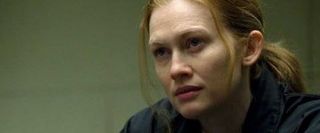 Despite the fact that The Killing sharply fell off in both popularity and quality (if you ask some people, at least) after its splashy debut on AMC, it's coming back to the network for another season in which they promise to finally, finally tell loyal viewers who killed Rosie Larsen. And in the meantime, the show's star Mireille Enos has wasted no time booking film roles thanks to her newfound fame. She's already in the middle of shooting World War Z opposite Brad Pitt, and today Variety reports that she'll star in Gangster Squad, the period cop film directed by Zombieland and 30 Minutes or Less mastermind Ruben Fleischer.
Though she plays a tough-minded detective on The Killing who's putting off moving away to be with her fiance, Enos has been landing in a lot of wife roles-- she's playing Pitt's beloved in World War Z, and here will play the wife of Josh Brolin's character, one of the few cops in the LAPD in the 1940s who wasn't being paid off by the notorious gangster Mickey Cohen, to be played by Sean Penn. Ryan Gosling rounds out the starry trio of leads as another good cop "who loves the bachelor life," and also confirmed for the cast are Michael Pena, Anthony Mackie and Giovanni Ribisi-- you know, your average murderer's row of ridiculous talent. As reported a while back Fleischer's Zombieland star Emma Stone is also in negotiations for a role; rumor has it that Robert Patrick, the T-1000 himself, could also sign on for a role that Bryan Cranston had to drop out of.
30 Minutes or Less, which hits theaters this Friday, is a quick and dirty, absurd and actually very funny comedy that Fleischer admits felt much more manageable than some of the other offers he was getting after Zombieland, like the Mission: Impossible--Ghost Protocol gig. But the guy is hugely talented, and thank God he now feels ready to move on to something as big as Gangster Squad, which seems to get better and better with each addition to the cast. In the wife role Enos might not have all that much to do -- wives in cop movies rarely do-- but she's about to be in great company in a film that's already on the "highly anticipated" list for next year.
Your Daily Blend of Entertainment News
Staff Writer at CinemaBlend