LAFF: Make Believe Review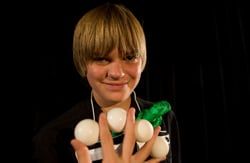 Just the other night, I was bowling with some high school kids I'm working with in a summer program. One of the girls decided to show some of the other kids a couple of card tricks she knew. Both tricks took about three minutes and ended with bright eyes and astonished looks on the faces of the kids whose cards the girl successfully revealed. Although the card tricks were fairly simple, it was impossible to deny how, for even 30 seconds, the flipping of a 10 of clubs could make the world seem so wonderful and mysterious.
This, magnified by 1000, is the world that the kids in Make Believe live in. Following the lives of six Teen World Championship of Magic contestants, this upcoming documentary from J. Clay Tweel gives insight not only into the usually locked down world of magic but also six eccentric and talented school-aged kids. Following in the footsteps of Spellbound, the film trades back and forth between interviews with the six young magicians and their on-stage performances.
And as with Spellbound, the flick focuses primarily on the duality of the participants' lives. Like superheroes living out in the real world, these kids learn to juggle the inevitably awkward world of teen life (and, more so, that of a teenage magician) and their more poised and confident on-stage personas. Some do it more successfully than others; Krystyn, a well-spoken young blonde hailing from Miami, seems to have both her social and "professional" life in order.
Others, however, have a harder time, as the thing they love to do can sometimes alienate them in necessary ways; practicing magic is something that, more often than not, must be done alone. Hiroki is the extreme example of this, as he resides in a part of Japan free of any distraction. No internet. No stores. Few friends or acquaintances. This has given him the time to create one of the most interesting and innovative acts of recent times and most likely the best one in the film.
So while the structure is familiar and the socially inept teen has been explored in more than enough movies, Make Believe is able to feel fresh thanks, in part, to an amazing cast of characters as well as a subject that, even after a few seasons of Secrets of Magic Revealed, remains both mysterious and interesting. Tweel has a gem on his hand here, but I'm not going to say that it's magical. That's too easy. Let's just say it's enchanting.
Your Daily Blend of Entertainment News
Thank you for signing up to CinemaBlend. You will receive a verification email shortly.
There was a problem. Please refresh the page and try again.