Linda Cardellini And Nathan Fillion Are Super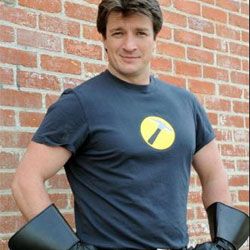 It looks like James Gunn will wage war against Kick-Ass with a kick ass cast for his homemade superhero movie Super. Gunn already has Rainn Wilson, Ellen Page, Liv Tyler and Kevin Bacon on the roster, but now he's added nine more, all of which he's worked with in the past.
Super stars Wilson as Frank, an average guy who seriously loves his wife Sarah (Tyler). The problem is, Sarah falls into the arms of a suave drug dealer named Jacques (Bacon). In an effort to bring his wife home, Frank suits up as The Crimson Bolt, a superhero without powers but armed with a pipe wrench. Page plays his trusty sidekick, Boltie, a sociopath that works at the town comic book store.
The most notable new additions are Nathan Fillion and Linda Cardellini. Cardellini played Velma in the Scooby-Doo movies and in Super will portray a woman who "ultimately delivers love to Frank." Fillion, who starred in Slither will appear as a pop-icon who inspires Frank to take action. Other Slither cast members include Gregg Henry and Michael Rooker. Four of the nine actors come from Gunn's Tromeo and Juliet. There's Sean Gunn (James' brother), Stephen Blackheart, Lloyd Kaufman and Valentine Miele. Lastly, Mikaela Hoover from Gunn's popular web pieces "PG Porn" and "Humanzee!" will appear as a young lady who encourages The Crimson Bolt.
Just as it's been ever since the casting news started pouring in, Gunn is still under major scrutiny for following in Kick-Ass' footsteps. Of course this could not be his fault; he could have developed the concept far before word of Kick-Ass got out or without know the movie even existed. He's certainly assembled a crack team and, if his story is original enough, they should have no trouble setting Super far and apart from Matthew Vaughn's movie.
As reported by Coming Soon, Gunn is confident that his bonds with his newly added cast members will only make Super a more successful project. "From Nathan to Rooker to Gregg to my brother Sean, some of my closest relationships have been fortified during films I've done in the past. These are people I like and admire but with whom I also share common creative goals. It helps imbue Super with an uncommon life, warmth, and energy. Super is an act of love for all of us, and it's wonderful having the people I love the most helping me make it." How sweet?
Staff Writer for CinemaBlend.
Your Daily Blend of Entertainment News
Thank you for signing up to CinemaBlend. You will receive a verification email shortly.
There was a problem. Please refresh the page and try again.