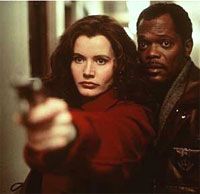 The Long Kiss Goodnight… was that the one with Sam Jackson and Julianne Moore or a Morgan Freeman/Ashley Judd combo? Oh, that's right! It's the one with Jackson and Geena Davis. If there's one thing an 11-year old movie that no one saw or remembers needs, it's a sequel, and that's exactly what Sam Jackson is pushing for, according to the MTV.
"Mitch [Jackson's character] is one of my favorite characters. I mean, every time I pass The Long Kiss Goodnight [on TV], I stop and watch it. If it's on, I stop, I watch it," Jackson said twice to make sure that we know he watches his own work on T.V.
MTV also reported that Jackson is excited to work with director Renny Harlin (Driven and Mindhunters). Despite rumors of the sequel being a joke, as no one is excited to work with Harlin, Jackson insists that he is looking forward to it and has the plot all sorted out – in his head.
"Actually, we're thinking, you know, the little girl [Samantha's daughter, Caitlin] is grown up now and possibly got some skills passed onto her by her mom. Her mom gets killed and we want to find out who did it," Jackson explained to a yawning journalist. "She comes to find me because I'm the only connection to her mom. And I might know the people that have done that."
Brilliant. Let's hope this one gets rushed into production and slapped onto the Summer 2008 release schedule.
Your Daily Blend of Entertainment News