Malin Akerman Cast In Rudd-Aniston Hippy Commune Comedy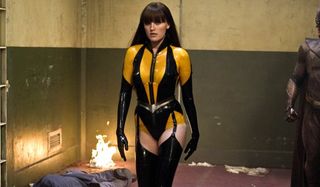 In-demand actress Malin Akerman has joined the cast of Wanderlust, to be directed by David Wain, whose notables include cult hit Wet Hot American Summer and more recently Role Models. Akerman will be starring alongside Paul Rudd, Jennifer Aniston, and Justin Theroux.
Variety says Wanderlust tells the story of a New York City couple, played by Rudd and Aniston, that grow sick of the cutthroat urban lifestyle and shack up in a hippie commune. No word yet on who Akerman will be playing in the movie--although I could see her filling either the stock role of Aniston's NYC martini buddy or a loose and loony member of the commune who befriends the adventurous couple.
Wanderlust hit eyebrow-raising publicity gold in August when it was announced that Aniston would be going topless for her role in the film. She also apparently smokes weed, has a lesbian threesome, and sleeps with numerous guys at the commune. Akerman would be a pretty cool partner-in-crime for this sort of unhinged, free-spirit mischief, so hopefully she'll turn up in the hippie tent and not get underused as an anonymous cosmo skirt. Her role in The Heartbreak Kid proved that she was born to play kooky.
Your Daily Blend of Entertainment News