Marvel Sets Edgar Wright's Ant-Man For November 2015 Release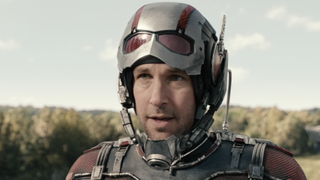 (Image credit: Disney)
When Edgar Wright showed up at San Diego Comic Con this summer to show off the test footage reel he had shot for his Ant-Man film, he frustrated a lot of fans by not revealing when the film would go into production, or when it might make its way into theaters. Speculation has been that Marvel was pushing Ant-Man to the distant future, but now Disney and Marvel have revealed that you'll be able to see it much sooner than that.
The studio has set a November 6, 2015 release date for the film, which Wright will direct as his follow-up to The World's End, the comedy he's currently shooting with Simon Pegg and Nick Frost. As Wright said in the Comic Con presentation, he and Joe Cornish were still working on the script at the time, but the production of The World's End ought to give them plenty of time to shape up the script on the side and finish it up to meet that release date there years from now.
If you want to keep your Marvel calendar up to date, that puts Ant-Man coming after everything we know is in development at the studio, including Iron Man 3 (May 3, 2013), Thor: The Dark World (November 8, 2013), Captain America: The Winter Soldier (April 4, 2014), Guardians of the Galaxy (August 1, 2014) and The Avengers 2 (May 1, 2015). The November release of Ant-Man solidifies what looks like a two-a-year schedule for Marvel in the coming years, and based on everything Wright has made in the past and the hugely positive response to that test footage, it's going to be worth the wait.
Your Daily Blend of Entertainment News
Staff Writer at CinemaBlend