Matt Dillon Will Get Crazy With Kristen Wiig And Annette Bening In Imogene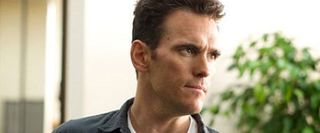 Maybe it's something about the dark eyes or the heavy brow or the serious roles he played as a younger actor, but Matt Dillon is really, genuinely funny. Yes, a lot of his comedic roles have been in movies that are complete garbage, like You, Me and Dupree and Old Dogs, but think back to the late 90s, when he had the one-two punch of In & Out and There's Something About Mary to prove he could hold his own against serious comedic talents. If the secret to making a good comedy with Matt Dillon is surrounding him with a strong cast, it's hard to ask for much better than what he'll have in Imogene, the comedy that will serve as Kristen Wiig's follow-up to her hugely, hugely successful Bridesmaids.
According to Deadline Dillon will join Wiig and Annette Bening in the cast, playing the "eccentric love interest" of Bening's character, a guy who says he's in the CIA but might just be insane. Bening isn't much better, a gambling addict now living with her daughter (Wiig), a woman who faked a suicide attempt after losing her job, getting dumped & evicted all at the same time. The completely loony sounding movie, which also includes Glee's Darren Criss as Wiig's younger love interest, will be directed by Shari Springer Berman and Robert Pulcini, the team behind American Splendor and, less successfully, The Extra Man and The Nanny Diaries. They've got an ace in the hole with Wiig, though, who is positively on fire thanks to Bridesmaids and who seems to be recruiting the best and the brightest to get silly with her in this.
Production on Imogene started in New York this week, so maybe if we're lucky this offbeat comedy will be finished in time to find a home at the festival that makes offbeat comedies into critical hits: Sundance. I know an unhinged Matt Dillon would fit in pretty perfectly in my "running around through snowbanks" Sundance schedule.
Staff Writer at CinemaBlend