Matthew McConaughey Will Play A Superhero If This Happens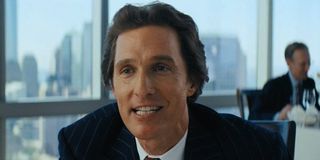 He's been active in Hollywood since 1991, but Matthew McConaughey's never been more sought-after than he is now. He's appeared in hits like The Wolf of Wall Street and Dallas Buyers Club (the latter of which earned him many awards), broke into TV with HBO's True Detective and can be seen this week in Christopher Nolan's Interstellar. However, despite his diverse resume of dramas, romantic comedies, sci-fi epics, etc, there's one genre he hasn't delved into yet: superhero films.
During an interview with IGN, he was asked what it would take for him to jump onto one of these blockbusters. This was his response:
Matthew McConaughey is at that point in his career where the paycheck isn't the defining factor of joining a project, so from an artistic standpoint, it makes sense that it's the content that has to appeal to him first before anything else. If that script doesn't cut it, nothing will. Truthfully, he isn't the first actor I would think of to be in a superhero film. He's given great performances in many films, but him running around in a costume fighting evildoers is a weird site to imagine. Then again, I never thought I'd see actors like Anthony Hopkins or Russell Crowe joining a superhero movie, so it wouldn't be entirely unprecedented.
There are several characters that might be a good fit for the Lincoln spokesman. If Fox hadn't chose Channing Tatum, McConaughey would have made a good Gambit. He would nail the Louisiana accent, and could handle the actions scenes well. He may be older than the Ragin' Cajun is typically portrayed, but seeing him throw those energy cards would be amazing.
If DC and Warner Bros. had gone in a different direction, he might have visually made a good Aquaman, although the Southern drawl wouldn't cut it for the King of Atlantis. However, there's only one role that would be a perfect match for him: Marvel's Adam Warlock.
Created to be the "perfect human," Warlock is a recurring presence in the cosmic Marvel universe that unites the heroes against Thanos in the 1991 story The Infinity Gauntlet. This battle will be adapted in The Avengers: Infinity War movies, and Warlock definitely exists in this universe. We saw his cocoon in The Collector's home, and the explosion that destroyed most of the collection in Guardians of the Galaxy may have freed Warlock. He's not technically a superhero, but casting Matthew McConaughey would be a great decision on Marvel's part. Not only does he physically resemble Warlock, but he can bring the necessary gravitas to play this unusual entity that will lead the Marvel Cinematic Universe heroes into their greatest battle. How's that for an interesting character?
Below is the full interview clip.
Connoisseur of Marvel, DC, Star Wars, John Wick, MonsterVerse and Doctor Who lore. He's aware he looks like Harry Potter and Clark Kent.
Your Daily Blend of Entertainment News
Thank you for signing up to CinemaBlend. You will receive a verification email shortly.
There was a problem. Please refresh the page and try again.